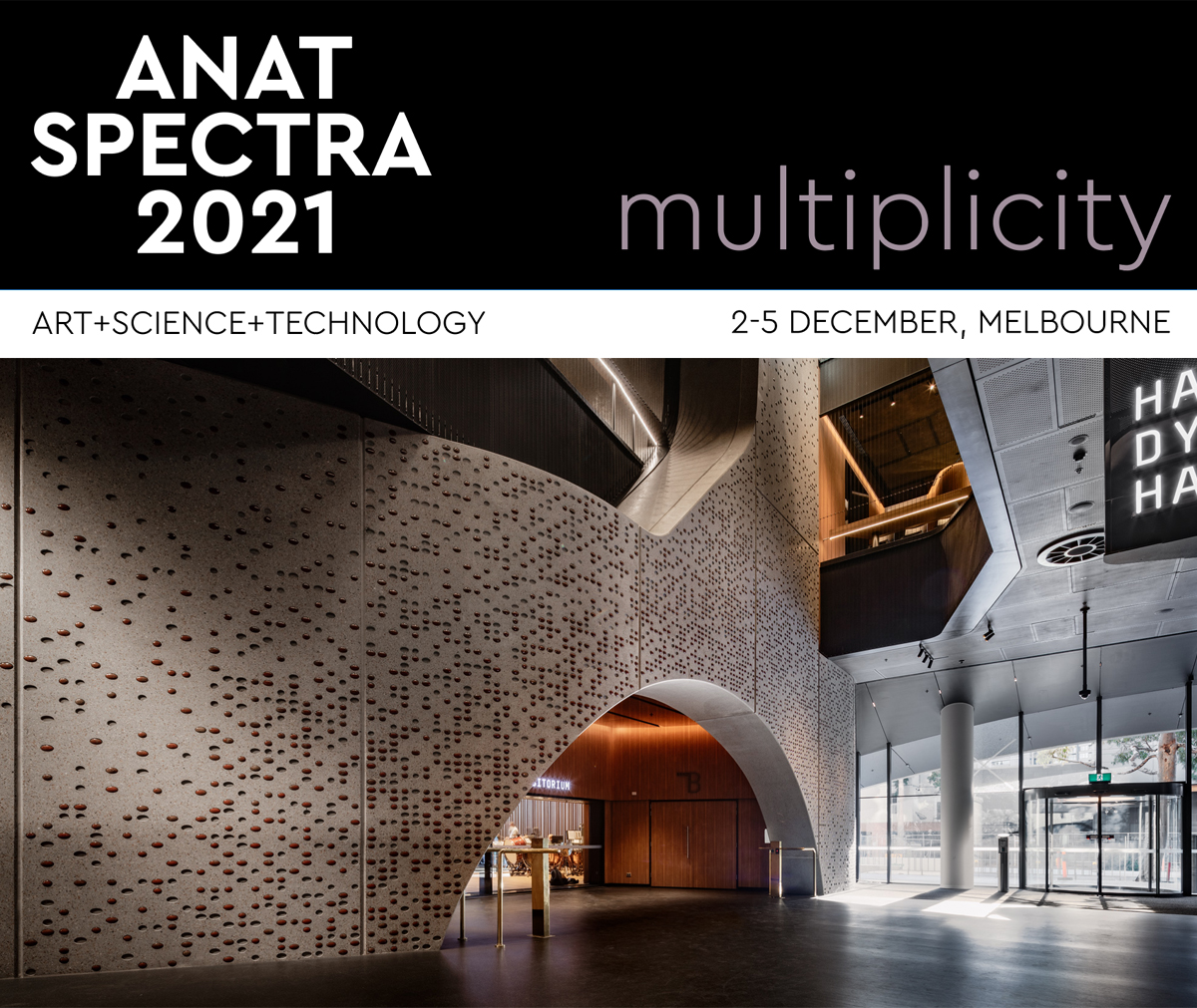 ANAT SPECTRA 2021 ::  Multiplicity
Call for Proposals
Proposals are invited from artists, scientists, technologists, researchers and postgraduate students working at the intersection of art, science and technology.
For many around the world, 2020 was a year zero. Not just for the decade but for humanity. We are no longer approaching the tipping-point, we've arrived. Our economic, political and cultural systems seem bereft of the solutions to the problems they have created. For centuries, our dominant settings have been singular, linear and binary. Unsurprisingly, our species is in deep conflict with itself and the Earth on which its continuity depends.
To create futures for human and non-human worlds that are fair, just and sustainable, we need new ideas, new ways of thinking and being, strategies and sensibilities, a multiplicity of new shapes, frames, behaviours and discoveries. ANAT SPECTRA 2021: Multiplicity speaks to the urgency of this challenge and is a provocation to the 'possible' at the nexus of art, science and technology.
Imagined by artist, curator and writer, David Pledger, the program will comprise an artistic offering of moving image, performance, visual and sound art in dialogue with a discursive program presented in symposium and assembly formats. The program will be hybrid, living online and in-person.
Multiplicity invites symposium proposals for ideas, artworks, research practices and collaborations made at the intersection of art, science and technology by artists, scientists, technologists, researchers and postgraduate students operating in groups, collectives, ensembles, and individually.
These might engage with but are not limited to climate science, artificial intelligence, robotics, Indigenous futures, space exploration, posthumanism and transhumanism, algorithmic or generative art, food security, wearable tech, surveillance, blockchain art, bio-art, nervous systems, land care, genomics, digital democracy, nanoart, and science fiction.
We are open to multiple forms of delivery including papers, artist statements, art works, navigation of methodologies, panels, in-conversations, actions, interventions, virtual reality/augmented reality, interviews, performances, walk-and-talks and guided tours. We're interested in a variety of strategies such as irony, humour, speculation, critique, provocation.
Multiplicity aims to foreground Australians working at the edge of experimental and anti-disciplinary practice.
WHAT :: ANAT SPECTRA 2021 :: Multiplicity is a hybrid, artistic and discursive platform inspired by the intersection of art, science and technology on the theme of Multiplicity.
Presented in partnership with University of Melbourne, Faculty of Fine Arts and Music, home of the Victorian College of the Arts (VCA) and Melbourne Conservatorium of Music (MCM).
WHEN :: DECEMBER 2-5, 2021.
WHERE :: University of Melbourne, including:
Ian Potter Southbank Centre (IPSC) and Federation Hall, Southbank Campus, and
Science Gallery, Melbourne Connect, Parkville Campus.
Read the Call for Proposals guideline PDF here
Make a Submission using the
ANAT SPECTRA 2021 EasyChair Portal
Proposal Deadline: Wednesday 4 August, 2021
Please send enquiries to [email protected]
ANAT SPECTRA 2021 Program Curator
We're delighted to announce award-winning contemporary artist, curator, producer, writer and thinker David Pledger as the inaugural Program Curator for ANAT SPECTRA 2021. Working at the intersection of the performing, visual and media arts in Australia, Asia and Europe, David is notable for engaging publics in productive and provocative ways.
ANAT CEO Melissa DeLaney says "ANAT is at the forefront of experimental practice, and to be working as an organisation with David is a chance for this ethos to enter into the ways in which we design our culture and programs. David has a highly collaborative practice, centred very much around ideas and possible futures. We are positive about this influence on the model of presentation of this year's ANAT SPECTRA and what this experience will bring to our artists and network."
David is founding Artistic Director of not yet it's difficult (NYID), one of Australia's seminal interdisciplinary arts companies. His curatorial practice focuses on creating optimal conditions for artistic production out of which exhibition, programming and cultural development ambitions are realised. This has led him to initiate and curate an eclectic array of innovative initiatives including the Brussels-based IETM-Australia Council for the Arts Collaboration Project (2009-2014); 2970° The Boiling Point, (2015, 2017) an international art and ideas event; the locative art-series Hoteling (2016, 2017); the Singapore-Australian Meeting of the Asian Dramaturg's Network (2017) and Monsoon Australia (2015), an Asian-Australian-European interdisciplinary performance platform co-curated with Margie Medellin (Critical Path) and Arco Renz (Kobalt Works). He has consulted for numerous arts and cultural organisations, most recently, Tarrawarra Museum and philanthropic maverick, Igniting Change.
Read the full announcement here
ANAT SPECTRA 2021 is presented by ANAT in partnership with the University of Melbourne
ANAT SPECTRA 2018
ANAT SPECTRA 2018 featured 102 artists, scientists and presenters. Showcasing the best creative research being produced through interdisciplinary collaborations between Australian and NZ artists and scientists, the sold out symposium was held at University of South Australia's Cancer Research Institute. Over 90 academic submissions were received, of which 36 were selected for the single-stream symposium. Dr Jill Scott, Professor Emerita for Art and Science Research in the Institute Cultural Studies in the Arts, ZhdK, in Zürich and founder of its Artists-in-Labs program gave the opening keynote
Read Dr Jill Scott's inspirational 2018 keynote Creative Incubators for a Common Culture
For more about ANAT SPECTRA 2018
ANAT SPECTRA 2021 celebrates and acknowledges the Traditional Owners and custodians of the lands of the Yalukit Willam Clan, the Boon Wurrung and the Wurundjeri people of the Kulin Nation. We pay our respects to their Elders past and present and acknowledge First Nations people as our first artists and scientists.