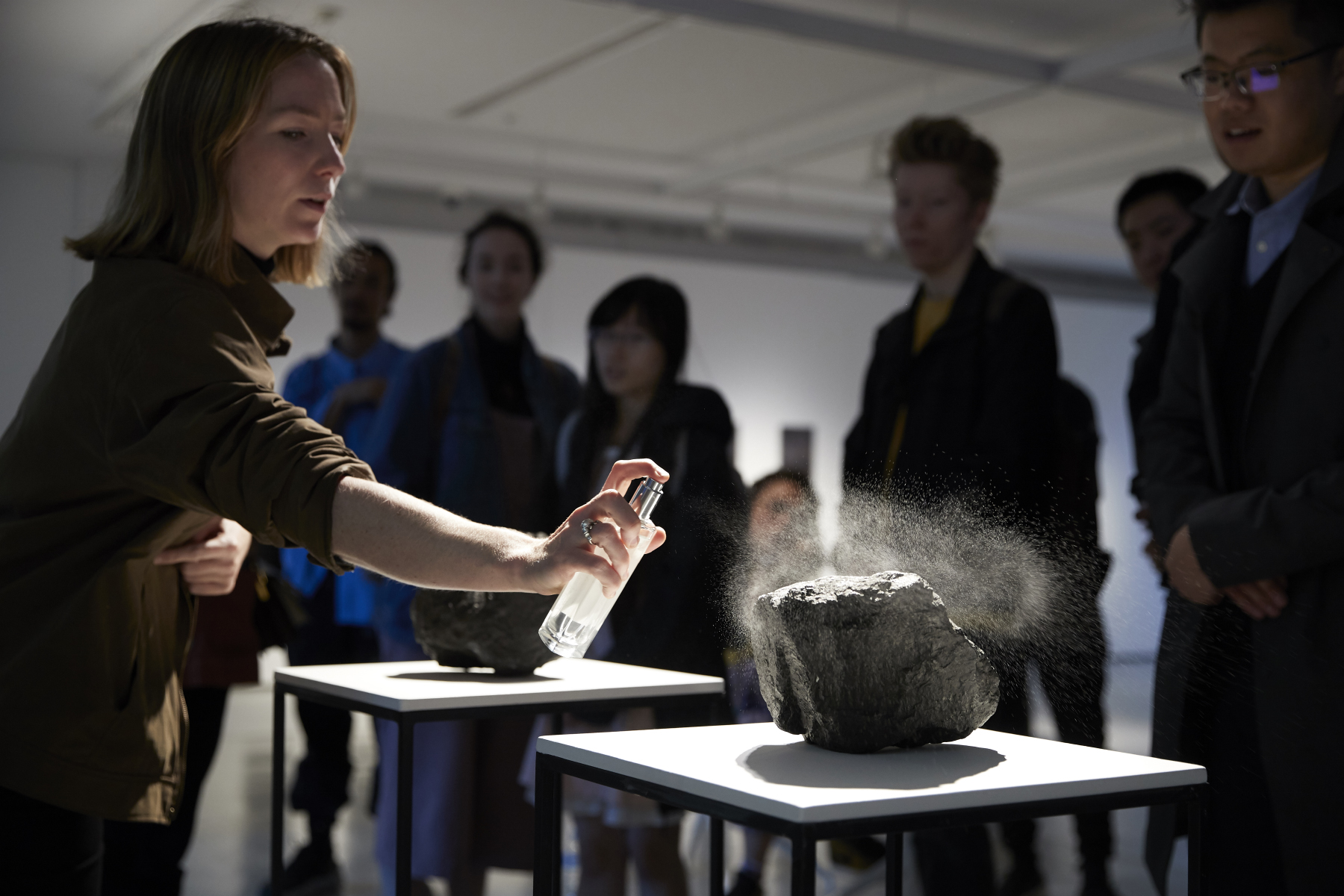 The Art and Consequence of Collaboration
The Art and Consequence of Collaboration
16 July—6 September 2019
UTS Gallery
Produced by ANAT
Curated by Experimenta
Curator: Jonathan Parsons
Associate Curator: Nicky Pastore
In October 2018, the Spectra 2018 exhibition, The Art and Consequence of Collaboration, presented eleven Australian artists deeply engaging with the sciences, resulting in an extraordinarily vibrant and diverse array of artworks, with works by Robert Andrew, Keith Armstrong, Leah Barclay, David Haines, Leah Heiss, Chris Henschke, Joyce Hinterding, Baden Pailthorpe, Helen Pynor, Erica Seccombe and Martin Walch.
ANAT was thrilled that The Art and Consequence of Collaboration was chosen tour to UTS Gallery, Sydney in September 2019.
In the UTS Gallery exhibition eight artists were featured; Leah Barclay, David Haines, Leah Heiss, Chris Henschke, Joyce Hinterding, Helen Pynor, Erica Seccombe and Martin Walch. The exhibition was contextualised by the Gallery's public program, including an Artist's Talk by Helen Pynor, an audio-described tour for blind or visually-impaired visitors, a special screening at the Golden Age Cinema of the award winning documentary Particle Fever, and a special Schools Workshop program.
The exhibiting artists work with scientific research, data, and new technological tools to reconnect people to the realities of the physical world.
By studying the growth of lichen in the forests of the Blue Mountains World Heritage Area in her work TITLE, Joyce Hinterding ponders how the adaptations of lichen might present new opportunities for biomimicry.
Chris Henschke is fascinated by the underlying patterns of the universe explored in the field of physics; inspired by his residency at CERN, his work Resonance gives visual expression to a phenomenon seen at both the microscopic and macroscopic scale.
Erica Seccombe's Out of Season has utilised advances in microscopic scanning technologies to reveal the wonder of natural processes impossible to see with the naked eye.
Just as scientific practice is influenced by its cultural context, Helen Pynor's video capturing the hand gestures of a researcher discussing her work reminds us that scientists are human and bring emotion and passion to their work. Accompanying this work is Fallen, part of Helen's extended exploration into the ambiguity of the beginning and end of life.
By personalising medical devices in her work Facett, artist and designer Leah Heiss demonstrates the transformative power in uniting aesthetics with functionality to challenge the norms of the health sciences.
In Martin Walch's Terra Antarctica, the result of his 2017 Australian Antarctic Division/ANAT fellowship at Mawson Station, he reveals previously hidden aspects of the Antarctic landscape, weather and ecosystems through his use of time-lapse photography.
Leah Barclay's Migration Patterns: From Freshwater to Saltwater brings this same observational rigour to her explorations of an equally unfamiliar environment, the aqua-sphere.
David Haines' Slow Fast Mountains appeals to the evocative power of our olfactory senses, triggering lived and ancestral memories of our connections to the earth.
Curator Jonathan Parsons says the works 'offer a vital antidote to Stephen Wilson's warning in his seminal book Art + Science Now, that "the partitioning of curiosity, inquiry and knowledge into specialised compartments is a recipe for cultural stagnation."
Hear the audio-described tour of Spectra: The Art and Consequence of Collaboration by Imogen Yang, founder and Director of Insightful here