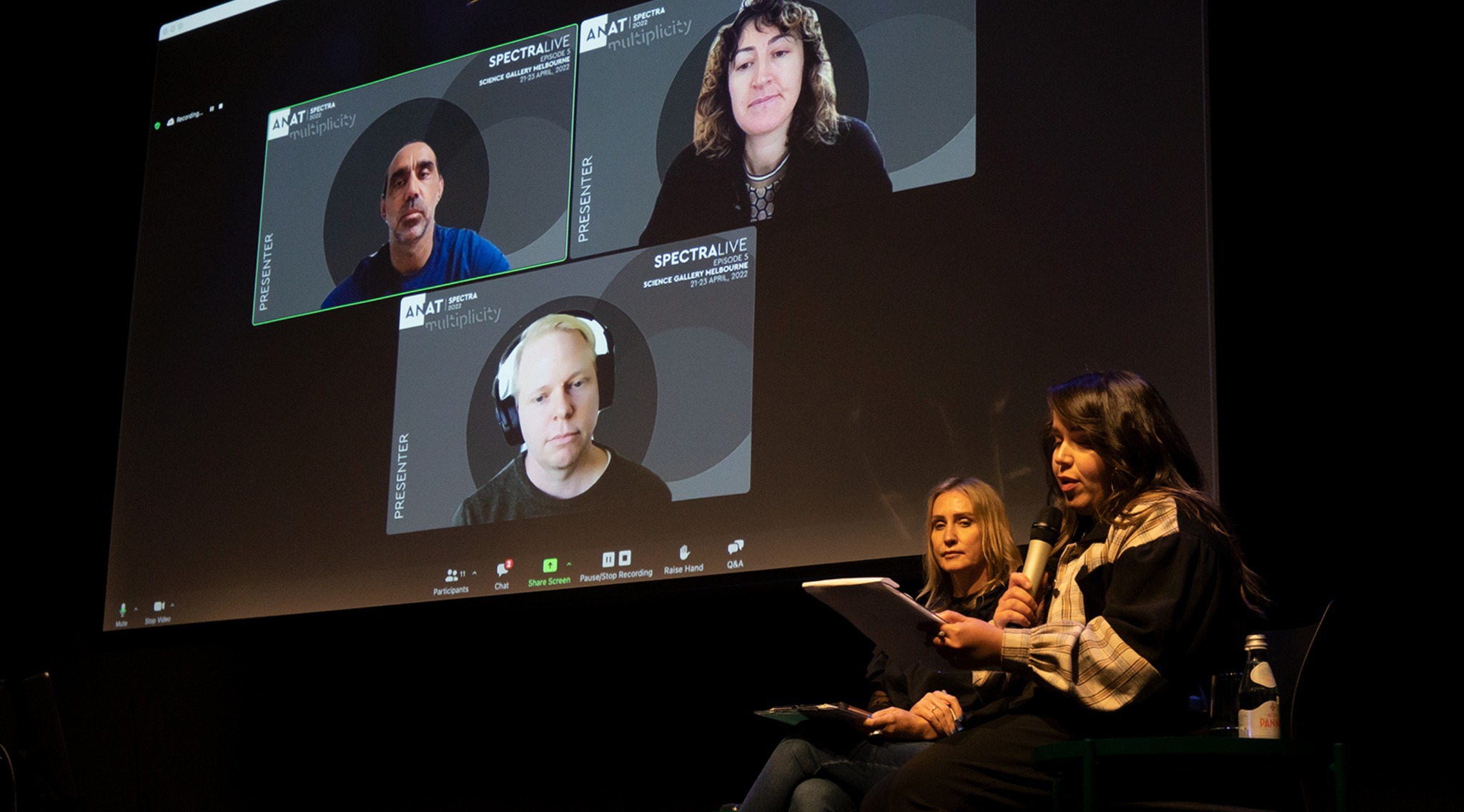 ANAT First Nations Program Producer
Position Description
POSITION ::  ANAT First Nations Program Producer (Identified Role)
BASE SALARY :: $71,000 pro rata $42,600
HOURS :: 3 days per week
BENEFITS :: Employer superannuation contribution 10%
Flexible and family-friendly workplace
Some professional development opportunities available
ANAT is Australia's leading organisation bringing artists together with science and technology research partners. For over 35 years we have built an international reputation for conceiving and realising opportunities for artists to pursue creative research and experimentation. We do this because we believe artists are essential to how we imagine and shape our future. 
Our work enables artists to achieve impact in non-traditional fields, grounded on our belief in the essential role that artists play across all areas of society. We recognise that First Nations people were the first artists and scientists in the land now called Australia, with thousands of years of evidence based knowledge in all scientific fields that allowed a thriving, rich and sustainable culture to continue for 60,000+ years. Our commitment to diversity and prioritising of support for First Nations artists is grounded on our understanding that diverse voices are critical to national conversations about wellbeing and sustainability.
ANAT is an incorporated association, under the Incorporated Associations Act 1985 (SA) governed by a national board of directors and managed by a small, dedicated team from its base in Adelaide's CBD.
Position Overview
This position works closely with the CEO and the ANAT Program Manager, as part of the ANAT creative programming team to implement the artistic objectives of the program. 
Together, we will deliver an ambitious and distinctive artistic program that consolidates and develops ANAT's unique position in Australia's arts ecosystem. You will enable artistic perspectives that reflect the diversity of contemporary Australia and prioritise support for First Nations artists.
Essential Competencies, Attributes, Skills  
Knowledge and understanding of Aboriginal communities and artists locally and nationally.

Passion for building capacity for creators, makers and businesses and demonstrated experience in producing new work both face-to-face and online.

Demonstrated respect and value cultural safety and cultural inclusion.

Ability to establish and influence strong and effective working relationships internally and externally.

Previous experience in a similar role encompassing project development, delivery and coordination.

An understanding of the issues affecting Aboriginal and Torres Strait Islander peoples.


Ability to communicate sensitively and effectively with Aboriginal and/or Torres Strait Islander people.
Desirable Criteria
A tertiary qualification in an arts or related discipline.
Roles and Responsibilities
Produce new work led by Aboriginal artists and communities.

Deliver programs, workshops and residencies that build skills and networks and capacity for socially engaged arts practice.

Build relationships with partners and stakeholders at a local, state and national level.

Assist in identifying sponsorship and funding opportunities.

Advocate for ANAT programs.

Actively participate in communities linked to ANAT programs.

Contribute towards a productive, professional and harmonious work environment.


Deliver outcomes that contribute to the success of ANAT's strategic plan.
How To Apply
Please email your application for this position to:
ANAT CEO, Melissa DeLaney
[email protected]
by 5pm (ACDT) Friday 10 February, 2023

Your application should include
A cover letter of no more than 2 pages; outlining your interest and suitability for this position

Your CV


Your scenario response (no more than one page). 
Scenario
Describe a time where you have developed an arts or cultural program with a wide range of stakeholders and partners which led to successful public outcomes. Include the steps you took to ensure the project's success, any challenges you faced, and how you met stakeholder expectations. You should detail the situation, the actions you took and the results.