New Light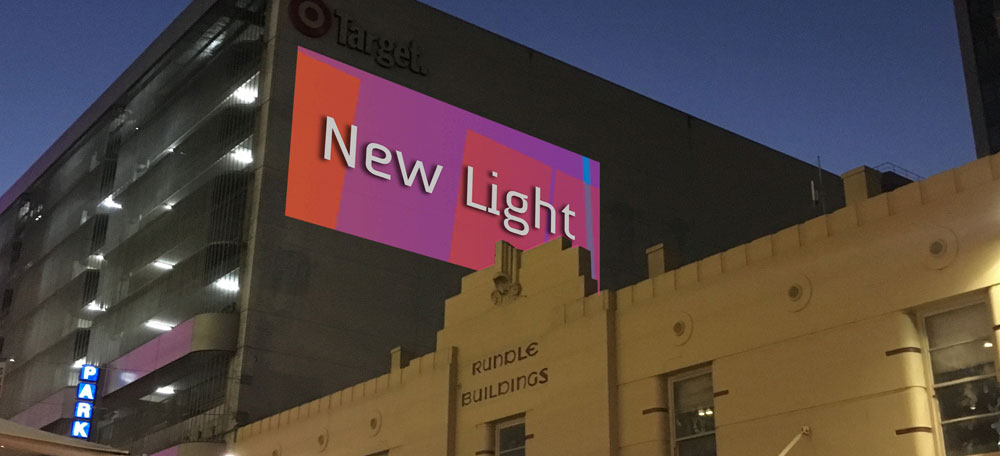 New Light was an opportunity for Aboriginal & Torres Strait Islander artists to produce short, experimental moving-image works as part of TARNANTHI: Festival of Contemporary Aboriginal & Torres Strait Islander Art, celebrating Australia's rich and diverse Aboriginal cultures. Large-scale, silent projections screen in high resolution onto the eastern façade of the Target building on Rundle Street, Adelaide until the first week of January 2018.
The New Light moving image works originally Screened as Part of TARNANTHI 2017, proudly presented by ANAT, in association with the City of Adelaide and TARNANTHI: Festival of Contemporary Aboriginal and Torres Strait Islander Art.
New Light was also screened as part of Enlighten in Canberra from 8 – 10 & 15 – 16 March 2018. More information about New Light screening at Enlighten here.
PATRICK CARTER, WA
Dance 2017
A Noongar man, Patrick uses performance, movement, video, sound and painting to tell his stories. An active artist since 2007, he has been presented in numerous exhibitions, art and film festivals and is currently a participant in DADAA's stARTSPEAK Studio and Digital Dialogues projects in Perth.
Image: Patrick Carter, Whadjuk Noongar people, Western Australia. Dance (still), 2017. Single channel HD video, 60 seconds. Courtesy Patrick Carter, Sam Fox, Sohan Ariel Hayes.
BRAD DARKSON, SA
old light (refraction)
Brad works with various media including paint, resin, sound and mixed-media sculpture. His work is informed by strong ties to both his Narungga and Anglo heritage, and has most recently focused on identity, memory, pilgrimage, ritual and technology.
Image: Brad Harkin, Narungga people, South Australia. old light (refraction), 2017, HD video still frame, 60 seconds. Photo courtesy the artist.
REGINA PILAWUK WILSON, NT
Shadows of Syaw
Regina is a Ngan'gikurrungurr woman from the Daly River region, a senior artist, and winner of a Telstra National Aboriginal & Torres Strait Islander Art Award. Most recently, she has been experimenting with the translation of her weaving designs into different mediaImage: Regina Pilawuk Wilson, Ngan'gikurrungurr people, Peppimenarti, Northern Territory. Shadows of Syaw (still), 2017. Single Channel HD Video, 60 seconds. Co-producer: Kate Matthews.
Photo courtesy Kate Matthews and Durrmu Arts Aboriginal Corporation.
RAYMOND ZADA, SA
Commercial Value
Of Barkindji/Pakindji and Afghani descent, Raymond is visual artist working primarily with photography, video, and digital design. A winner of two Telstra National Aboriginal & Torres Strait Islander Art Awards, Raymond's work is held in numerous public and private collections.