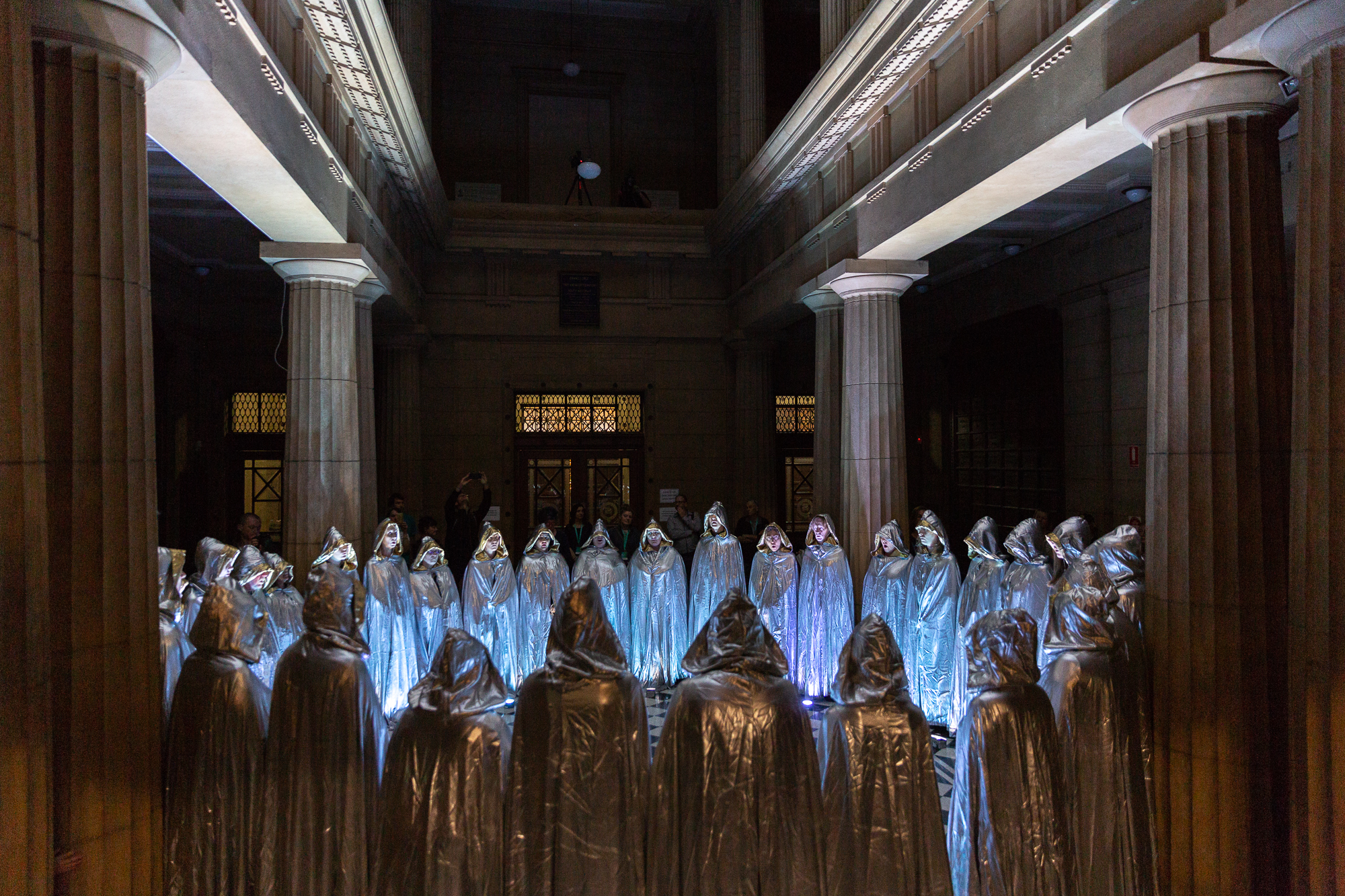 ANAT SPECTRA 2018
ANAT SPECTRA is a biennial festival showcasing the best research and creative work being produced through collaborations between Australian artists and scientists.
ANAT SPECTRA 2018 featured 102 artists, scientists and presenters. Showcasing the best creative research being produced through interdisciplinary collaborations between Australian and NZ artists and scientists, the sold out symposium was held at University of South Australia's Cancer Research Institute. Over 90 academic submissions were received, of which 36 were selected for the single-stream symposium. Dr Jill Scott, Professor Emerita for Art and Science Research in the Institute Cultural Studies in the Arts, ZhdK, in Zürich and founder of its Artists-in-Labs program gave the opening keynote
Read Dr Jill Scott's inspirational 2018 keynote Creative Incubators for a Common Culture
The ANAT SPECTRA 2018 exhibition, The Art and Consequence of Collaboration, was curated by Experimenta and featured works by Robert Andrew, Keith Armstrong, Leah Barclay, David Haines, Leah Heiss, Chris Henschke, Joyce Hinterding, Baden Pailthorpe, Helen Pynor, Erica Seccombe and Martin Walch. The exhibition, presented at SASA Gallery, UniSA, illustrated the extraordinary creative potential of art and science research collaborations. The exhibition included a large range of works, from a reimagined periodic table of elements,to the re-staging of an AFL game using GPS and performance data, to the visceral and earthy scentof gaseous rocks. We were thrilled The Art and Consequence of Collaboration was chosen tour to The UTS Gallery, Sydney in 2019.
ANAT SPECTRA'S public program included a workshop, film screenings, public talks and a performance. The BYO Lab (Build your own lab)workshop was delivered by SymbioticA to 19 participants. A film program, curated by Cris Kennedy of the National Film and Sound Archive, screened at the Mercury Cinema, while the Iris Cinema featured Open Air by artist Grayson Cooke.
The three public talks proved popular, with close to 300 people in attendance. At the Heart of Glass with Jam Factory's CEO, Brian Parkes, and Creative Director, Glass, Karen Cunningham, were in conversation with Chief Scientist of the world-renowned US-based Corning Museum of Glass, Dr Jane Cook, to shed light on the ways that science and technology is transforming contemporary glass work practice. Bodies in Space featured artists, Sarah Jane Pell (AUS) and Sue Austin (UK), both create work in environments that irrevocably alter how they understand, use and perceive their bodies. Natasha Mitchell from ABC Radio National discussed with the artists the ways in which weightless environments have transformed not just their arts practices, but also their lives. Finally Art in the Extreme presenter Sachie Yasuda, Project Manager of the Australian Antarctic Division's Artist Fellowship program, hosted a conversation with artists Philip Samartzis and Martin Walch about the work they created during their time as Arts Fellows in Antarctica.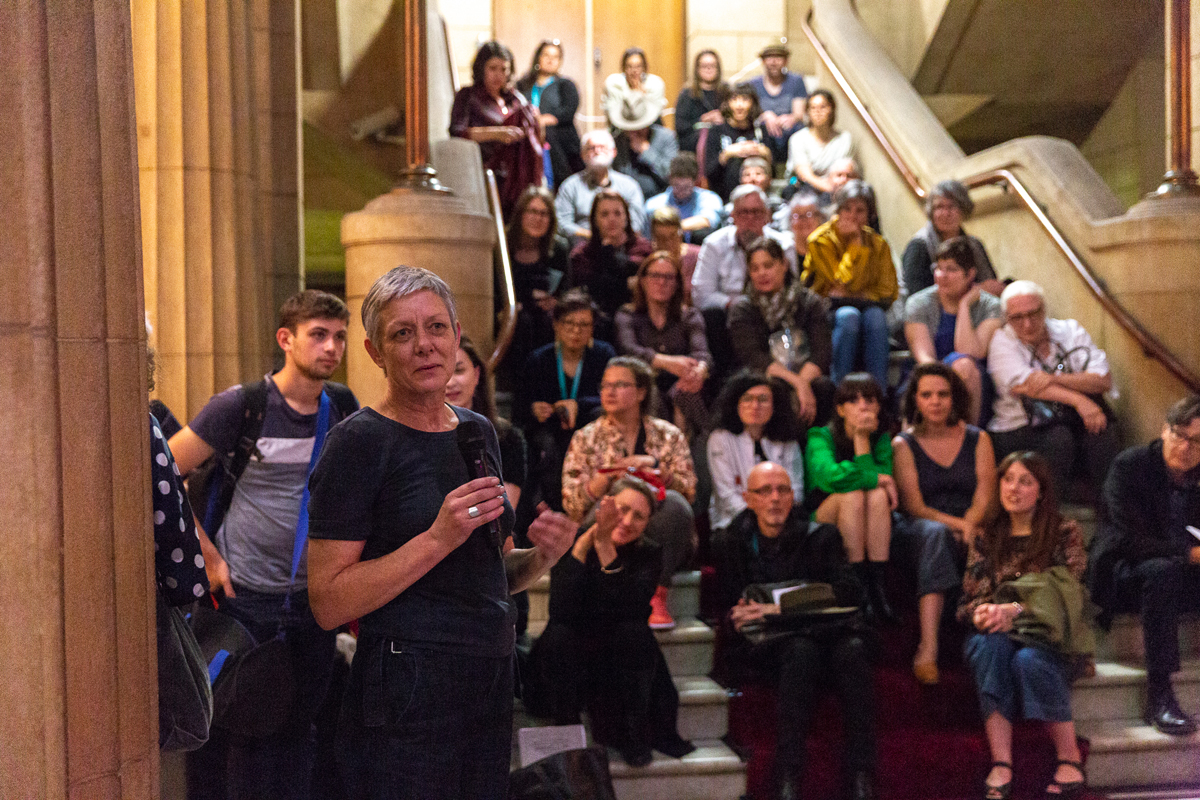 ANAT Director Vicki Sowry farewells ANAT SPECTRA 2018. Photograph Sia Duff.
Presented in the grand foyer of Adelaide's Grand Lodge of Freemasons, Michaela Gleave's A Galaxy of Suns featured a 33-part local choir 'singing' the stars as they rose and set over the horizon. A unique collaboration across contemporary music, art, astronomy, and design between visual artist Michaela Gleave, composer Amanda Cole, app developer and digital artist Warren Armstrong and astronomer Dr Michael Fitzgerald. The performance premiered at Dark Mofo in 2017, with this iteration produced by Erin Milne, together with the 'Constellation Choir' assembled especially for Spectra by local chorister Jo Pike.
October 2021
University of Melbourne's Southbank Campus & surrounds