Q&A May
A monthly Digest feature where we ask questions about the nature of creative collaborative practice, the stories artists tell and ANAT's place within the art + science + technology network.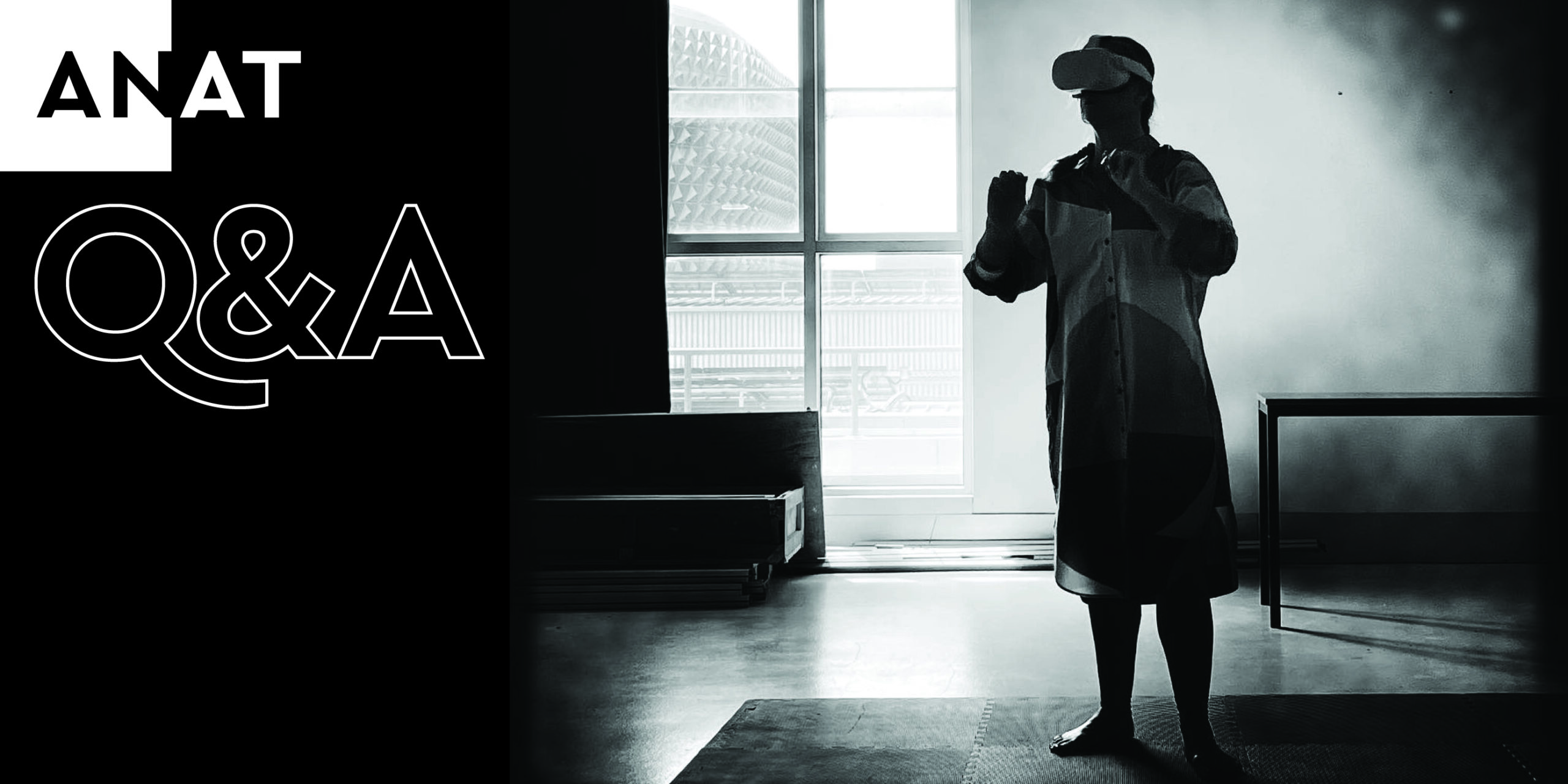 Sarah Neville
Sarah Neville is an Australian choreographer who devises new media performance, instigates inter-disciplinary practices and invests in multi-platform processes and production outcomes. Sarah's research and production outputs strive to extend the potential of live performance by augmenting it with digital design and creating immersive experiences that put the participant at the centre of the action. Productions outcomes are live performance for stage performance, immersive experience design and community engagement. Sarah has an honours degree from Flinders University in theatre and film, and a research masters in Creative Industries from The Queensland University of Technology in new media choreography. In 2022, Sarah completed a PhD in dance digitisation as a cotutelle research student at both Deakin University and Coventry Universities. In 2021 Sarah was awarded an Arts South Australia Fellowship to research and develop Virtual Reality Dance works. Sarah is currently an Adjunct Research Fellow at University of South Australia as part of the Research Centre for Interactive and Virtual Environments.
Can you tell us about your connections to ANAT?
I was first introduced to ANAT by Honor Hager (now CEO of Science Gallery Singapore) who had visited my 'peripheral fringe' show insectspace in 1998, on invitation of my collaborators Nik Gaffney (fo.AM, then insect22) and Matthew Thomas (DJ Aquilla). Seeing that I was creating dance with live electronic music and live digital visual mixing, Honor soon encouraged me to visit the ANAT office and introduced me to Amanda McDonald-Crowley. This led to a trip to Arizona for a Dance and Technology conference courtesy of the ANAT conferences and workshops fund and then an invitation to a 3-week residency at the Brisbane Powerhouse for Alchemy International Masterclasses –with the likes of Blast Theory, Mongrol, PVI and Raqs Collective.
Through connection with ANAT, I Have been exposed to leading edge arts practitioners and new technologies that have taken my practice to the next level and validated my interdisciplinary approach. Since 2000, I have continued to check in, taking up invitations to share my process, reconnecting with peers and meeting new collaborators. Emerging out of the Alchemy masterclasses I began a collaborative project Oxygen, supported by ANAT with Mari Velonaki and Monica Narula at Saria in New Delhi, In 2005, I took part in Create_Space New Media lab, at the Meat Market, Melbourne facilitated by Adam Nash (AUS), Jonah Bruckner-Cohen (USA) and Katherine Moriwaki (USA) through an initiative by Julianne Pierce. Through this opportunity, I met peers Somaya Langley, Matthew Gardiner and Andrew Burrell, whose work has informed and inspired my practice.
If I am ever seeking collaborators with specific knowledge or skill sets ANAT is the first organisation I call. I try to check in with ANAT staff at the beginning of each of my major projects to widen my awareness of potential presenting possibilities, conferences or interested partners both nationally and internationally. In 2022 I took part in ANAT'S SPECTRA, presenting my new dance for virtual reality work, Glasshouse at the Science Gallery Melbourne. ANAT has been absolutely influential in the development of my artistic practice, especially with respect to cross-disciplinary collaboration, working with science and technology and accessing national and international networks. The staff over the years have been truly inspirational in their guidance, knowledge and support, and are counted among my most valued mentors and friends.
Everybody's a storyteller. What stories are you telling through your work?
My stories always celebrate the connection between technology and nature as an interwoven and interdependent ecosystem. I also focus on futures-orientated methods and speculative design and fictions. From my first dance work insectspace (1998) followed by my largest production, Ada (2000) to my latest AR work Evocation (2023) and previous VR work Glasshouse, I chose to find ways to play with how humans, technology and nature evolve and move together.
How has your practice changed over time?
I have become more and more interested in participatory experience and less interested in creating fixed work for an audience to passively view. I love improvisation so have moved from finding ways to enable a performer to improvise with technology to empowering a participant to be in the centre of the experience in an immersive digital environment. I have continued to resist screen-based work and moved away from work for the stage. I have always preferred interactive engagement with digital arts and am now really enjoying creating AR, VR and simulated futures that empower the participant to make creative decisions and make change.
What are you working on at the moment?
I am working on an Augmented Reality work Evocation. The main idea is to evoke a physical response from participants who discover digital avatars within a site. These avatars are busy with their own rituals of daily life – working with the earth/ technology. I am showing the new work (free) at Liverpool Gallery on the 3rd/4th/5th May from 10 am – 3 pm.
I am also part of a very exciting initiative Make/Shift by The Mill, whereby I have been commissioned to present a new projection work, alongside 5 other South Australian Artists in June for the Illuminate Festival. I am not sure what I might make for this exhibition/event yet as the work will evolve from masterclasses with Cindi Drennan and Tim Gruchy through the Artistic & Curatorial Facilitator Margie Medlin, but my contribution is unlikely to be a screen-based and it should encourage the viewer to move.
What advice would you give to your younger self? (when you were just starting out as an artist)
In retrospect, the best thing I did was follow artists, cultural movements, organisations, and art spaces that challenge and inspire me. If it feels right and somewhat intimidating, unknown or strange, join in.