Q&A October
A monthly Digest feature where we ask questions about the nature of creative collaborative practice, the stories artist's tell and ANAT's place within the art + science + technology network.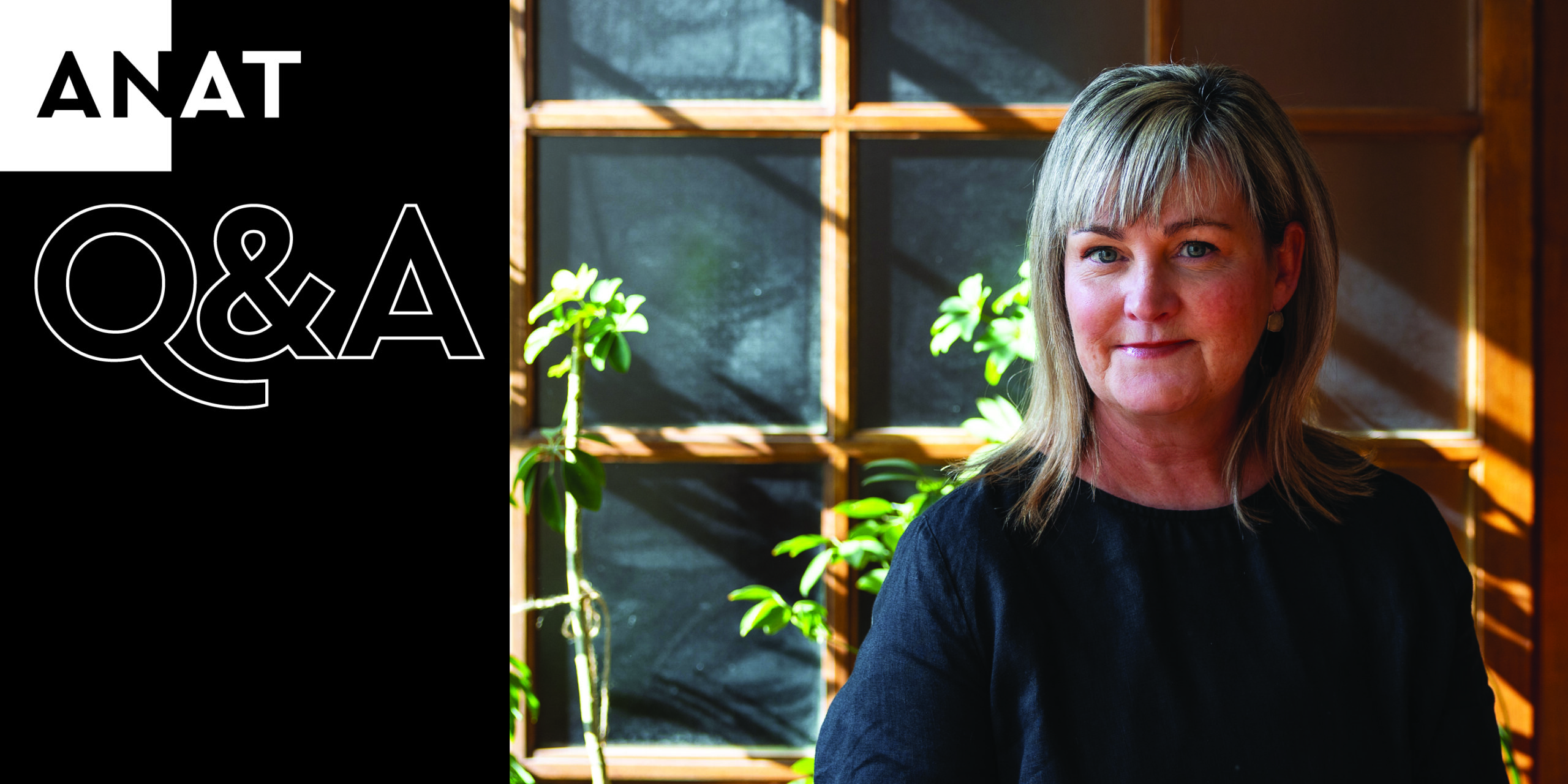 Carollyn Kavanagh
Carollyn Kavanagh is a communications strategist, independent curator and graphic designer living on Kaurna Yarta. An unwavering advocate for the intrinsic value of art, she recognises the indispensable role that artists play in shaping our world. As ANAT's Marketing and Communications Manager she's responsible for the development and implementation of storytelling, audience engagement and marketing strategies for the experimental arts organisation. Prior to her current role, Carollyn was Project Curator at SALA (South Australian Living Artists Festival), Design and Communications Coordinator at Guildhouse, as well as Senior Print Designer at News Corp.
Carollyn has a Bachelors Degree in Visual Communications, a Graduate Diploma in Art History and a Masters Degree in Curatorial and Museum Studies. Her master's thesis focused on house museums' unique hybrid public-private nature.
Can you talk about your connections to ANAT?
I joined ANAT in 2018, and honestly, it's been a pretty exciting journey for me. In this role, I get to bring together all my skills, which include my background in design, my communication experience, and my curatorial aspirations. ANAT is a small, absolutely dedicated team. I love working in such an agile space, and all the autonomy that comes with it.
Articulating the complex concepts behind the art, science and technology projects ANAT supports is both a challenge and a delight. Seeing people have that 'aha' moment never gets boring.
Everybody's a storyteller. What stories are you telling through your work?
The short answer is other people's stories. My initial dream was to become an illustrator. A mid-life career shift towards curatorial and museum studies revealed my true passion, working alongside artists instead of creating art myself. Whether working as a communications strategist or as an independent curator, I really enjoy sharing the stories of artists.
In 2022, the South Australian Living Artists (SALA) Festival asked me to curate their 25th-anniversary exhibition. The project encompassed the entire process, from conceptualisation and development to its successful execution. It aimed to pay tribute to artists whose work embodied the values and legacy of this iconic festival. The largest open access arts festival in the world. Telling SALA's story through the selection of a handful of extraordinary artists and artworks was a career highlight.
Silver featured fifteen artists at various stages of their careers, spanning photography, painting, sculpture, installation, textiles and projection. Given the restrictions of the heritage listed location, the Queen's Theatre circa 1858, collaborating with an architectural firm to construct a bespoke exhibition structure made the project even more special.
How has your practice changed over time?
I began my career as a graphic designer at News Corp. Fast forward a decade or two and the newspaper industry was in a downward spiral. I had a strong desire to work for a company that prioritised ethics over chasing advertising dollars. I decided to change my path and follow my first love, art.
I got a masters in curatorial and museum studies and started again. My first gig was as Adelaide City Council's inaugural Emerging Curator, where I initially met ANAT Program Manager Jenn Brazier. Jenn and this brand new initiative offered me the remarkable opportunity to curate a year long program, where I got to make all the choices. Twenty shows, in two spaces over twelve months!
A favourite exhibition from the series was Historia, a term which describes the recording and interpreting of past events. I was lucky to witness the beginnings of the Unbound Collective, four artists and academics from Flinders University's Yunggorendi First Nations Centre, Simone Ulalka Tur and lecturers Ali Gumillya Baker, Faye Rosas Blanch and Natalie Harkin. Ali's work Tall Ships, employed a mix of imagery and performance to examine themes of sovereignty and the weight of colonialism, celebrating the continued resistance to symbols of invasion. Reconsidering Adelaide's history in the physical representation of its colonial past, Adelaide Town Hall was a world away from The Advertiser.
Following this challenging and very rewarding start working with artists, I landed roles with local peak orgs SALA, Guildhouse and in 2018 ANAT.
Unbound Collective, Tall Ships, 2013 Simone Ulalka Tur and Natalie Harkin, Adelaide Town Hall. Video Carollyn Kavanagh.

What are you working on at the moment?

ANAT's 2022 annual report. Last year was a legendary one for ANAT. To finally stage ANAT SPECTRA after four pandemic postponements, in such an innovative way, was the best. Looking back at the imagery from the event and the featured artworks, to select images that convey the ambition and success of the festival takes the graphic designer in me to my happy place. I've redesigned the document and there is a second exciting story telling element to the report that we're looking forward to sharing in a couple of months.
I also have my fingers crossed about an exciting potential contract working on a corporate art commission.
What advice would you give to your younger self?
Be kind and invest in friendship. Listen to other people's stories and trust them enough to tell them yours.
I'm re-reading A Little Life at the moment, which is both harrowing and wonderful. Hanya Yanagihara says "… the only trick of friendship, I think, is to find people who are better than you are – not smarter, not cooler, but kinder and more generous, and more forgiving – and then appreciate them for what they can teach you, and try to listen to them when they tell you something about yourself, no matter how bad – or good – it might be, and to trust them, which is the hardest thing of all. But the best, as well."