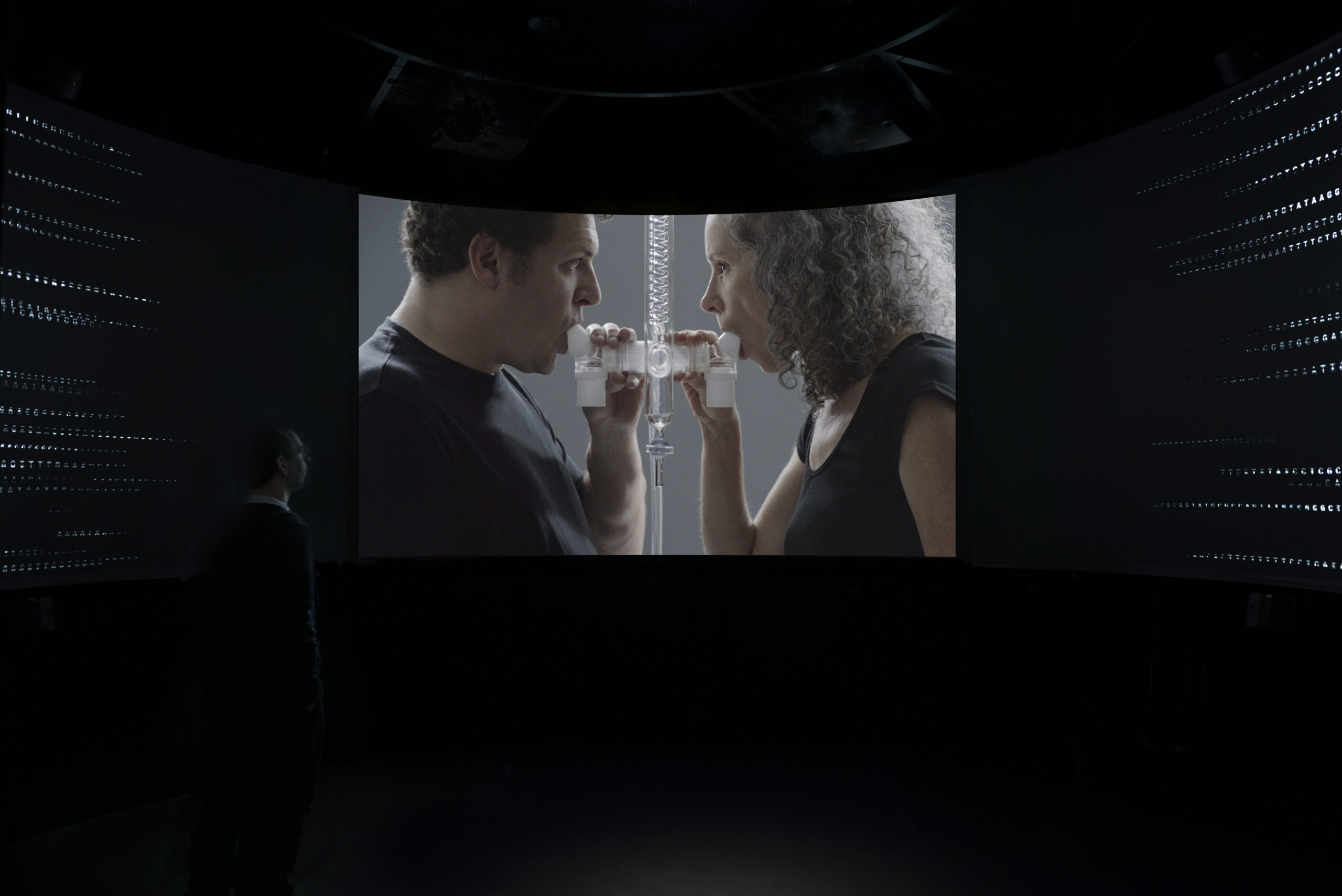 A career highlight at a seminal media art institution
ANAT alumnus Helen Pynor features in ZKM's Renaissance 3.0
ANAT alumni Dr Helen Pynor is a Sydney-based artist and researcher whose practice explores philosophically and experientially ambiguous zones, such as the life-death boundary. Highlighting a momentous achievement in Helen's career, one that fills us with pride, her work 93% Human is currently on exhibition at the internationally acclaimed ZKM Center for Art and Media | Karlsruhe Germany, in a survey exhibition of art-science practice from around the world titled Renaissance 3.0: A Base Camp for New Alliances of Art and Science in the 21st Century.
The exhibition was conceived by Peter Weibel and curated by Dr Anett Holzheid. ZKM is a unique cultural institution, with a worldwide reputation. Founded in 1989 and housing all media and genres, ZKM's founding mission was to perpetuate classical arts in the digital age, which is why it is occasionally referred to as "Electronic or Digital Art Bauhaus."
Helen has a long association with ANAT. 93% Human was developed during an ANAT Bespoke residency in the laboratory of Dr Jimmy Breen at SAHMRI (South Australian Health and Medical Research Institute), 2020-2021. Collaborating Legal Scholar and Bioethicist: Dr Carolyn Johnston, University of Tasmania.
Establishing a network involves laying deep foundations. The ANAT alumni is a community of hundreds of Australian artists, scientists, technologists and researchers who appreciate interdisciplinary and experimental approaches to knowledge. They have been part of ANAT's programs and residencies since the late 1990s. Our purpose is to support and foster the practices of our alumni. Helen's work 93% Human serves as a prime illustration of this foundational work in action.
93% Human is a media art installation exploring the multispecies nature of being 'human', the promiscuity of DNA, and DNA data as a generative tool, through an investigation of DNA we exhale in our breath and inhale from others. We routinely exhale molecules of our own DNA as particulate matter, suspended in the tiny droplets of fluid that comprise our exhalations, alongside DNA from the microbiota that inhabit our respiratory tract. This multispecies DNA is in turn inhaled by human and non-human others in our vicinity. 
In 93% Human a performance video depicts artist Helen Pynor and geneticist and bioinformatician Jimmy Breen breathing into a scientific glassware condenser device for 10 minutes, converting their breath vapour into liquid that gradually pools at the base of the device, rendering what is normally imperceptible into visible form. DNA from this shared breath sample was extracted, sequenced and analyzed in Breen's laboratory, and found to comprise 93% human DNA, with the remaining 7% belonging to around 6700 identified microbial species. These genomic traces provide forensic-like evidence of a presence, giving form to these usually unseen microbial cohabiters. At a time when the sharing of air with another had become deeply fraught, Pynor and Breen's performative actions highlight the intimacy and fecundity of our unnoticed exchanges with human and non-human others, and 'contamination' as a necessary condition of being.
An extract of the work made an appearance last year at Curiocity Brisbane, for the World Science Festival 2022. For its first international showing, the full iteration of the work was exhibited. Using the DNA data as a 'score' composer Amanda Cole created a microtonal, polyphonic choral score for 4 classically-trained singers, who use their own respiratory tracts to sing and whisper the taxonomic names of the human and hundreds of the 6700 microbial species whose DNA was present in Pynor and Breen's breath sample. This multispecies community is brought into the gallery space sonically, presented as an 8-channel sound work. 
Videos depict human and microbial DNA nucleotide sequences found in Pynor and Breen's breath sample, in ongoing flux and movement. Scientific glassware objects offer metaphoric breathing 'organs' and reference Pynor and Breen's original breath collection performance.
BIO: Dr Helen Pynor is an Artist and Researcher whose practice explores materially, experientially and philosophically ambiguous zones, such as the life-death boundary and the intersubjective nature of organ transplantation. Her work is informed by in-depth residencies in scientific institutions, such as The Max Planck Institute of Molecular Cell Biology and Genetics, Dresden, and The Francis Crick Institute, London. Helen's work has been exhibited widely nationally and internationally including at ZKM | Center for Art and Media, Karlsruhe; The National Taiwan Museum of Fine Arts; FACT (Foundation for Art and Creative Technology), Liverpool UK; Beijing Media Art Biennale; Science Gallery Dublin; and Science Gallery London. Helen has received an Honorary Mention at Prix Ars Electronica, Linz, and national awards in Australia. She holds a PhD, a Bachelor of Visual Arts and a Bachelor of Science.
CREDITS
93% Human (2023)
Panoramic video (10.20 min), 8-channel sound (20.09 min), scientific glassware objects
Lead Artist: Helen Pynor
Lead Collaborator, Composer: Amanda Cole
Lead Collaborator, Bioinformatician and Geneticist: Associate Professor Jimmy Breen, Chief Data Scientist, Black Ochre Data Labs at Telethon Kids and The Australian National University
Creative and Technical Production, 'Breathing' Video
Performers: Jimmy Breen, Helen Pynor
Cinematography: Jules Wurm, Mira Soulio
Sound Recordist: Will Sheridan
Editor: Bianca Willoughby
Sound Design: James Brown
Colourist: Yanni Kronenberg
Shot at Cog Creative Space, Adelaide
Creative and Technical Production, 'DNA Data' Video
Data Visualisation/Animation: Boris Bagattini
8-Channel Polyphonic Choral Sound
Composer: Amanda Cole
Soprano/Alto: Anna Fraser
Soprano/Alto: Jessica O'Donoghue
Tenor: Louis Hurley
Bass/Baritone: Andrew O'Connor
Sound Engineer: Bob Scott
Latin Consultant: Diana Fraser
Scientific Glassblower
Kent Carruthers, Custom Blown Glass
93% Human was supported by
ANAT (Australian Network for Art and Technology)
SAHMRI (South Australian Health and Medical Research Institute)
Curiocity Brisbane, for the World Science Festival 2022
ZKM | Centre for Art and Media Karlsruhe, Germany
This project was assisted by the Australian Government through the Australia Council for the Arts, its arts funding and advisory body.
Research informing 93% Human was undertaken during an ANAT Artist Residency in the laboratory of Dr Jimmy Breen at SAHMRI, 2020-2021. Collaborating Legal Scholar and Bioethicist Dr Carolyn Johnston, University of Tasmania
93% Human was created on the Traditional Lands of the Kaurna, Darramurragal, Gadigal and Bidjigal Peoples, Adelaide and Sydney.
Grateful thanks to
Bastien Llamas, Dan Bonsu, South Australian Genomics Centre, Vicki Sowry, Bec Dean, Ralph Davis
93% Human © Helen Pynor, 2023