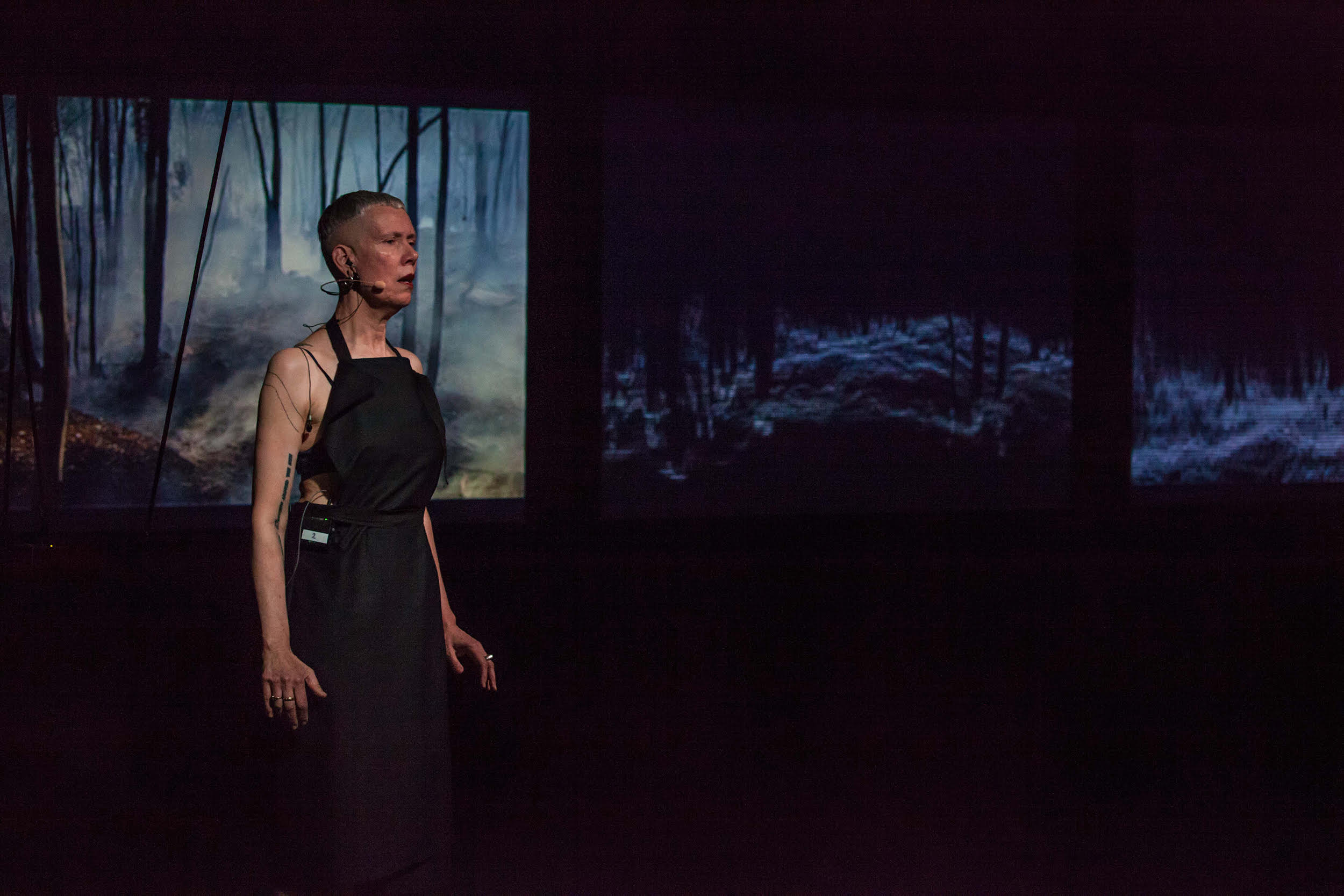 ANAT Alumnus :: Virginia Barratt
Virginia Barratt (V) is a trans-media artist, researcher, writer and performer living in Adelaide, Australia. Their doctoral research revolves around themes of panic, affect and deterritorialisation; explored through performance, experimental poetics and queered affective vocalities.
V has been involved with ANAT for over three decades. In 1989, they participated in ANAT's National Summer School program, and in 1992 they were part of the TISEA Coordinating Committee. From 1989-1991, V was ANAT's Executive Officer (EO). Most recently, they joined the 2020 ANAT Ideate residency with Jessie Boylan and Linda Dement, as  BoneDirt, a collective with a focus on communication between the human and the more-than-human.
V says of the colloboration "we're trying to work with the idea of slowing down time in order that we can kind of step sideways out of anthropocentric time, out of Chronos, or clocked time, and into deep time and attune with these kind of geological formations. And why? We want to attune with the land so that we can care for the land."
Falling rocks, Jessie Boylan for BoneDirt, 2020
A notable project of V's is Her Eyes Were As Black As Coal, a collaboration with fellow VNS Matrix founder and former ANAT EO Francesca da Rimini, as the collective In Her Interior (IHI). The installation was exhibited in 2019 as part of REFRESH, a collaborative + politically engaged platform in Art, Science, and Technology in New York. It offers expanded ways to see, to better comprehend the interdependencies of our existence and reflect on what is needed for us to collectively thrive.
Presently, V is working with their BoneDirt collaborators on the next iteration of Rupture — an installation with performance interventions — for Performance Space's Liveworks at Carriageworks. The project explores how symptoms of environmental and human 'disorder' can be seen as an appropriate response to personal traumas and global disasters.
V has a deep and abiding interest in sympoiesis, the act of "making-with" in open systems of production and the dissolution of artificial boundaries between disciplines, individuals and all other beings. They have continued, throughout their creative life, to work in marginalised spaces with others, placing collaboration at the heart of their art and life. "We are never working alone," they always say.
Learn more about V's work on their website.
Read BoneDirt's blog here.
The ANAT Alumni is a network of hundreds of artists, scientists and technologists. A lifelong community of remarkable, diverse and engaged professionals.
Read more about the ANAT Alumni here.