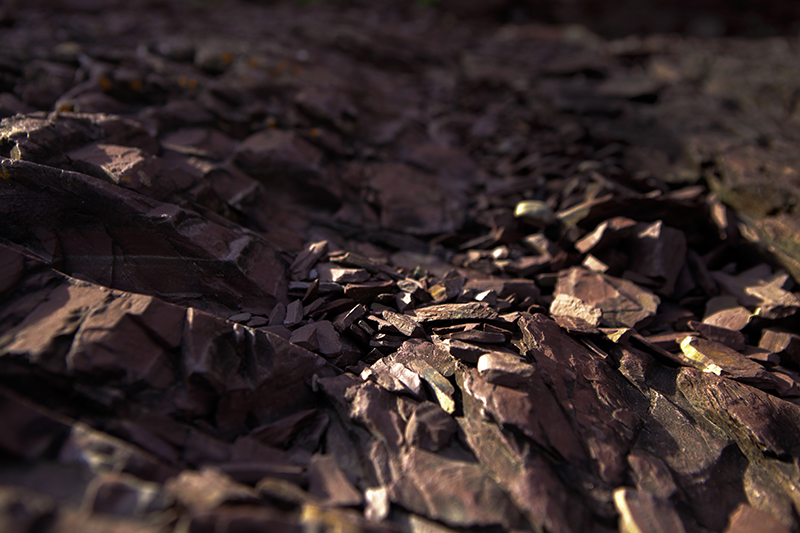 Dr Naomi Hunter in conversation with ANAT Ideate resident Virginia Barratt
Radio Adelaide's Festival City Producer, Dr Naomi Hunter talked to ANAT Ideate resident Virginia Barratt about her project with Jessie Boylan & Linda Dement, exploring human attunement with the more-than-human, specifically with geostrata: rock, ground, dirt. Collectively know as BoneDirt, the ANAT Ideate residents are seeking to develop technologies and speculative strategies for deep listening to and with the geological, to open out their possible relations with these more-than-human familiars.
Listen to the whole conversation and Virginia reading from Rupture…
or read an extract and transcript below.
Naomi: So, I notice that this collaboration, or this particular residency, there's three artists involved. I would love to hear a little bit about yourself, and maybe if you want to tell us about the collaboration that you have with the other artists as well.
Virginia: Sure. So, I've been a practicing media artist and a performer and writer. Currently, hopefully completing my PhD at the University of Western Sydney in the Writing and Society Centre. So, I guess that makes me a writer also. I guess I would say I've been an arts worker for three decades or more. And in Adelaide, I lived here in the 1990s and worked with a collective called VNS Matrix, which was a cyber feminist collective back then. And so I've had a long history, I haven't lived here for a long time, I've lived here twice for short periods in my life, but they've always been significant kind of art making periods. And one of my long-term collaborators, Francesca da Rimini lives here, and it's one of the reasons I came back here to live, so that we could be closer, to continue working together. Collaboration is really not just part of my practice, but it's actually my practice. I think collaboration is a really strongly political position to take in these times of precarity. Artists at the moment are incredibly beleaguered and struggling, and collaboration is a really fantastic way where it's mutual aid, where we can lift each other up and support one another, work together and bring our skills together and so on. Jessie and Linda, Jessie Boylan and Linda Dement, who I'm working with for the ANAT Ideate residency, we've been working together as a, kind of a formal, I suppose, collaboration since 2018, but I've known Linda like forever. Linda is amazing. An amazing coder, an amazing artist, an amazing writer. And…
Phoebe: And she's only saying that because Linda is listening.
Virginia: Linda had worked with Jessie and they were working on a Maralinga project for quite some time. And then started working on something around the idea of geo-trauma. And this is called Rupture, this project. And given that my PhD research area is panic, it seemed appropriate that they bring me into the collaboration. So, Linda introduced me to Jessie, and we are so strong and we love working together, and it's really always exciting and fantastic to work with them. And it was just so great to get this ANAT residency. It feels like it's been a long time coming, and this year has been so hard for everyone in terms of grants and just moving forward with projects and stuff. It's nice to have something to move forward with.
Phoebe: So, can you tell us about the final product of the collaboration?
Virginia: Well, I'm not sure that I can tell you what the final product is, because this component of it is really about speculative research. So, the ANAT Ideate kind of proposition around this residency is that it's pure research. And so what happens at the end of that is that we present our research findings, so we know what we're working towards. And I will tell you. We're working towards, or we're working with rocks. So, we're working towards an idea of listening to rocks. An idea of deep listening. So, I suppose that brings into the mix an idea of listening to the different stories of the land. So, when you're working with rocks, you have these kind of Euro kind of geology stories, and then you have these dreaming stories and First Nations origins stories. And how do those two things intersect, and what are the strategies we can use to actually listen to rocks. And when I say listen to rocks, I mean listen to rocks. So, is that through dance? Is that through, I mean, putting them in your mouth and, I don't know, absorbing the rock? Fundamentally I think it's about sonics and about time. So geological time is obviously a really different idea of time than human time.
Naomi: Absolutely.
Virginia: And the anthropocentric kind of idea of time, clock time, measured time, minutes and so on. What's a minute? What's an instant? You know, what is now? So, I guess we're trying to work with these ideas of time. We're trying to work with the idea of slowing down time in order that we can kind of step sideways out of anthropocentric time, out of Chronos, or clocked time, and into deep time and attune with these kind of geological formations. And why? We want to attune with the land so that we can care for the land. And so, I guess care is also another really important component. So, we're working with sound technologies and Luke Harold from, Dr Luke Harold from the Elder Conservatorium has worked with Linda and Jessie quite a lot. He's fantastic and so he's going to be working with us and has given us some fancy mics and things like that to listen to rocks with.
Naomi: I was hoping you would say something like that. We had someone not so long ago talking about listening to sound in different spaces and hearing that and converting it into frequencies and music. And then we were also talking about an Adelaide artist that did some listening of the trees in the Botanic Gardens, and used some equipment to actually record the sound of the trees, and it's amazing, the different sounds. So, I'm really curious to hear whether there would be an opportunity for the public to hear, see, experience any of the outcomes. Because I understand that it is speculative research, so the research is the work that you're doing. It's not an expectation that there has to be a public component, but from the curious…
Virginia: We're into outputs. We love making stuff. If there's not a symphony orchestra large kind of performative aspect, I'd be surprised.
Naomi: How long is your project destined for? I know, how long is the ANAT component of your project destined for? Because a lot of these things go on indefinite.
Virginia: The Ideate project I believe ends in December. Hopefully we'll get to do some field trips to Broken Hill and places like that. I've been going down to Hallett Cove, which is like an amazing geological site. If you haven't been to Hallett Cove, you should go to Hallett Cove, and look at all the glacial dumped rocks, the come-latelies and the foreigner rocks. All these strange terms that people use to describe these. There's chatters and things like that, which is very appropriate to an idea of the rocks talking or listening to rocks. Chatters is like a scraping that's on the side of a rock face.
Phoebe: I just had shivers just then when you said that. I'm just picturing that kind of grinding, and for some reason that just always makes me go [shudders].
Virginia: The glacial grinding along those kinds of geological strata is just amazing. And you can see it, it's like you can read the history by just looking at it. And especially down there at Hallett Cove. It's quite amazing. So yeah, where was I? Oh yeah, the outcomes. Yeah so, December for the ANAT end. And then I understand that we'll probably continue to work with the ANAT crew to look at how to move those kind of research findings forward towards whatever the next stage is, whatever the next outcome is. We'd really, really like to have people feel, see, hear it.
Phoebe: Now, I'm really interested and curious as well about the piece that you wrote, which is called Rupture as well.
Virginia: Yes, well I mean, that was a piece that was initially Jessie's piece, and Jessie got a grant to do that through the Bendigo Art Gallery and a program called Going Solo. But Jessie is just a collaborative person, so it was a bit weird trying to work in this framework of this idea of a solo artist moving their career forward as an individual, when we are just collaborative people. So, coming into that, there was a bit of struggle to get the institutional spaces to see me and Linda, and to understand that it was a collaboration. But it was about, the reason I was brought into the project was because of my PhD research on panic, and a lot of my research looks at the ideas around geo-trauma, or how the body and the world are connected. And not even just connected but inseparable, inextricable. The body is the world and the world is the body. The flesh is not just this casing of this meat suit, but it's also the world, the skin of the world, and all the networks. So, the ideas that also that ecological traumas and woundings resonate in the body, and similarly that the body responds to floodings, and fires. But this is also systemic, so it's a wounding across all ecologies, human, non-human and systemic. And so, this work was really the performance part of the work, was based on some of my writings around panic, for my PhD. And Linda and Jessie and I also worked on sound and video for that. And it ended up being a performance at the Big Anxiety Festival last year in Sydney. And hopefully we've got some things on the boil for it to happen here. The ADT is supporting it, Garry Stewart is a darling, and hopefully we're going to also be seeing Rupture here in Adelaide. And also, I have to say that my local yoga studio, Power Living, have a fantastic little community fund called The Ripple Effect, and they also put some money towards putting Rupture on in Adelaide. And my heart is with mutual aid and community funders. So yeah, it was really nice to get that support.
Naomi: I think there's a lovely synchronicity there when we're talking about the arts and sciences, because there's a lot of talk of separation, but it's so intermingled from way back when, that to separate and say these are different practices, it is quite ironic. Especially when you start to hear from sciences, well yeah, relationship to place directly affects physical bodies. When people say that I have a strong intergenerational link with a particular area, it's in the physicality of the beings that have actually been in that area, and although people say it's a cultural thing, well it's also a science thing. It can be shown, proven through the foods that have been eaten, the minerals that have been absorbed from being on the site, the practice that have occurred within that space over the generations. I think it is beautiful to see these types of collaborations becoming more and more prolific and I think they're very important.
Read the full Radio Adelaide transcript here
BoneDirt is a collaboration between the artists Virginia Barratt, Jessie Boylan and Linda Dement. They have been working together and with other knowledge holders since 2018, in the fields of geotrauma, embodiment and affect. They create trans-media visual and sonic installations that generate an immersive experience of the bodyworld assemblage, especially communication between the human and the more-than-human.
Read BoneDirt's blog here
Read more about ANAT Ideate here
Station: Radio Adelaide 101.5 FM
Program: Festival City 2 September, 2020