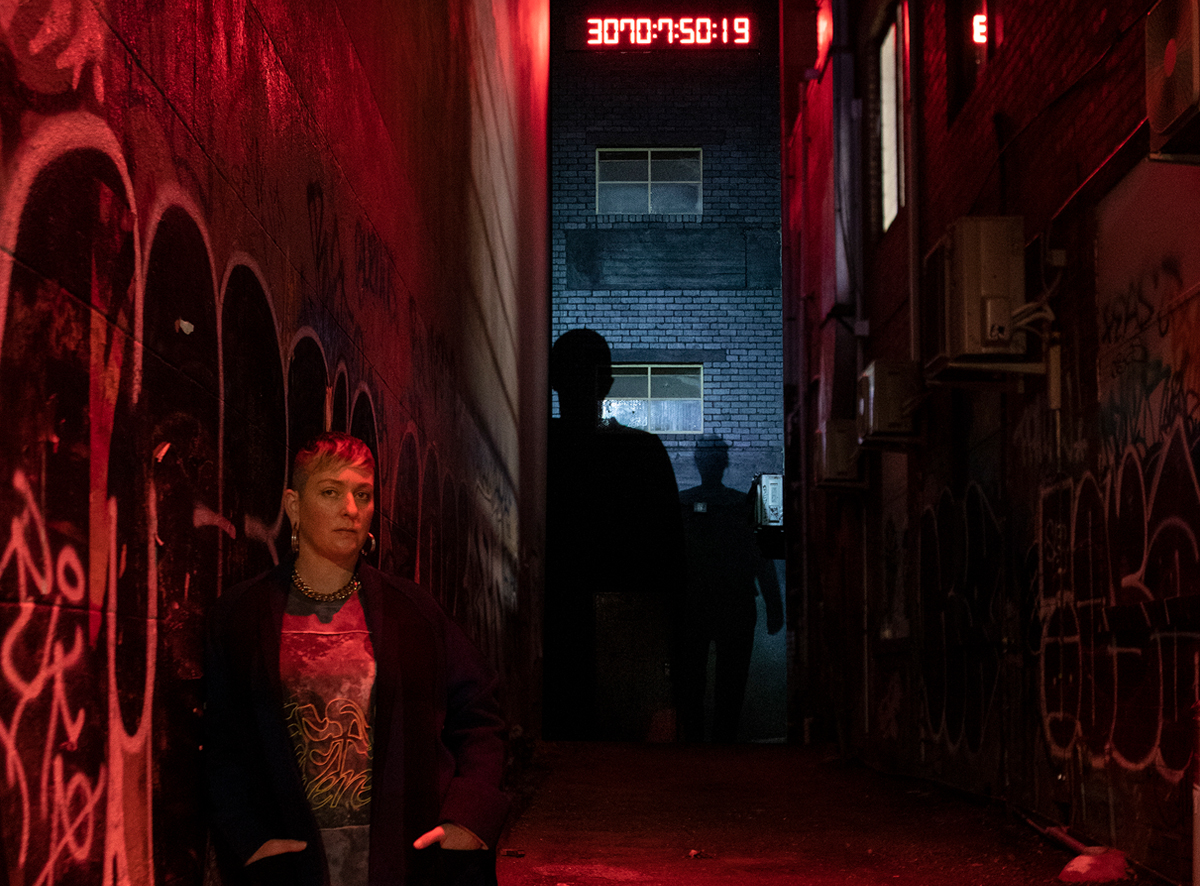 Yandell Walton :: End Passage
Taking over 40 of the city's laneways, Melbourne's cultural cognoscenti will inject a much-needed shot of creative and innovative imagination to fuel the city after a year of pandemic-driven absence. Featuring more than 80 of Melbourne's most celebrated and emerging musical and visual artists, Flash Forward is set to reinvigorate the CBD with a myriad of free art installations and musical performances. Creating a connected network of laneways across Melbourne with their own stories, visuals and acoustic designs, Flash Forward showcases Melbourne's creative culture, unlocking the previously hidden potential of some of the city's lesser-known laneways.
The installation End Passage by Yandell Walton is presented at the end of an overgrown, vandalized and dystopian setting in Platypus Lane Melbourne. The location chosen for this site-specific installation is named after the iconic duck-billed egg-laying mammal that is listed as both endangered and threatened in parts of Australia. As the climate crisis continues and global warming rises, we are drawing closer and closer to a tipping point of no return.
A countdown tells us something is coming, arousing tension and anxiousness. In End Passage, the digital countdown clock is literally alarming: it shows us the seconds, minutes and hours remaining until the year 2030—the earliest date predicted by the Intergovernmental Panel on Climate Change when our planet could exceed 1.5ºC of global warming above pre-industrial levels. At 1.5ºC we will see more heatwaves, floods, droughts, up to 90% of coral reefs lost and other ecosystems destroyed.
The projection reflects the imminent trajectory of humanity through the Anthropocene and towards the end of civilization. The figures follow each other down the passage and toward an unclear endpoint.  While white light can be a metaphor for spirituality and the divine, this vague and foggy environment engulfs the shadowy figures suggesting a much darker sicario.
Every night 5.30pm – 12am, until October 10, 2021
Platypus Alley Melbourne
Yandell Walton is a Melbourne-based artist whose work encompasses projection, installation, and digital media. Through work that melds architectural space with the digital image, Yandell has become recognised for her immersive installations that merge the actual and the virtual to investigate notions of impermanence concerning environmental, social and political issues.
In 2020 Yandell was selected for ANAT Ideate, one of six studio-based creative research projects that actively imagined the future, promising to take us through the looking glass to the other side of a global pandemic. She embarked on new research interrogating technological processes to enable volumetric scans to be animated, introducing human-like movement, with an goal to merge the natural environment with human movement in an aim to create a cross species form.
Read Yandell's blog here
Yandell Walton, process in development with MoCap data and photogrammetry, Agave Carlton Gardens, 2020. Image courtesy the artist.
Yandell's work has been widely exhibited nationally and internationally in non-traditional and public spaces including Rising Festival Melbourne (2021), Dark Mofo Tasmania (2018), Light City Festival Baltimore (2016), Digital Graffiti Florida (2015), Experimenta Speak to Me (Melbourne & Brisbane 2012-14), PUBLIC Festival Perth (2014), Melbourne Festival (2012), VIVID Festival Sydney (2013), ISEA / International Symposium of Electronic Art (2013) and White Night Festival Melbourne (2015). She was the recipient of the Australian Network for Art and Technology IDEATE grant (2020) and the Philip Hunter Fellowship (2020).