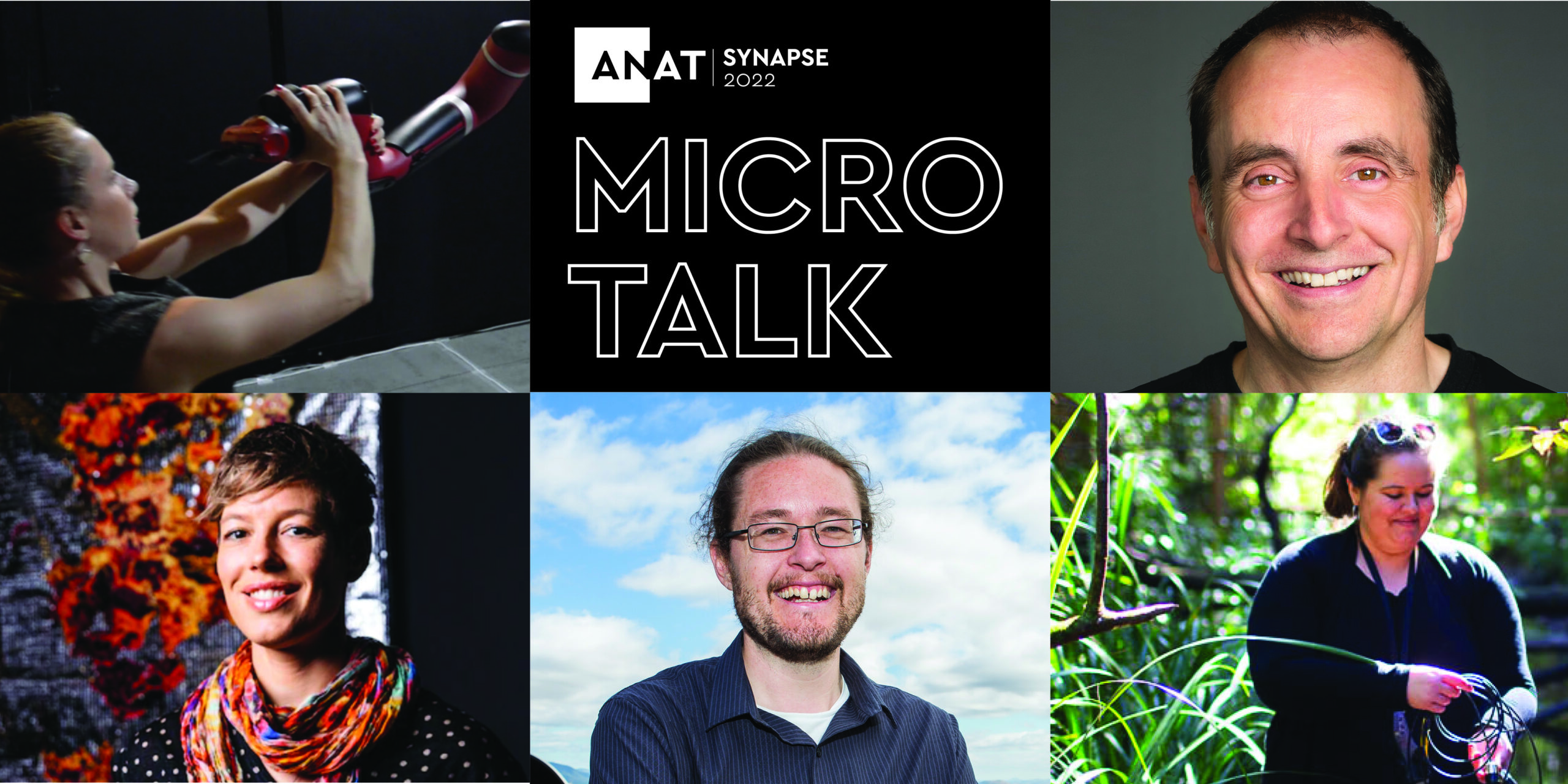 Micro Talk :: ANAT Synapse Residency Program 2022
On Thursday 8th December we held a short, lunchtime conversation featuring the artists and researchers currently undertaking the 2022 ANAT Synapse Residency program.

Dr Anna Madeleine Raupach + Dr Brad Tucker (ACT)
Mt Stromlo Observatory, The Australian National University
Dr Steph Hutchison + Prof. Jonathan Roberts (Qld)
Australian Cobotics Centre, The Queensland University of Technology
With Guest Host & ANAT Alumnus, Dr Leah Barclay (Qld)
Creative Industries, Sunshine Coast University
These bite-size online talks are an opportunity to ask questions and learn more about ANAT's creative research residencies.

Please view the Micro Talk in single speaker view here, if watching the recording on a small screen.
Dr Anna Madeleine Raupach, ANU
Hosted by the ANU Research School of Astrophysics and Astronomy (RSAA) at Mount Stromlo Observatory, this project combines creative practice with methods of observational astronomy to investigate the growing impacts and potential mitigation strategies of human-caused space pollution.
Anna Madeleine Raupach is a multidisciplinary artist based on Ngunnawal and Ngambri land, Canberra. Her current practice includes AR, moving image, drawing, textiles and installation, to express alternative forms of temporality and mapping, and to consider how technology shapes our interpretation of the natural world in the context of climate change.
Read Anna's Synapse Residency creative research journal HERE
Dr Brad Tucker, ANU
Brad Tucker is an astrophysicist and cosmologist, and is currently a Fellow at the Research School of Astronomy and Astrophysics, Mt. Stromlo Observatory at the Australian National University. His areas of interest include asteroids, comets, black holes, meteors, space junk, supernova, and big bangs.
Dr Steph Hutchison, QUT
Steph Hutchison collaborates with Jonathan Roberts at the Advanced Robotics and Manufacturing Hub and Australian Cobotics Centre to research how humans can predict the movement of robots, using dance improvisation and choreographic methodologies.
Steph is an artist-researcher, choreographer, performer, and teaching-artist. She has a rich dance practice as a solo choreographer/performer and collaborator within dance and technology contexts. As a dance artist, Steph creates and performs primarily improvised solo dance works that focus on extreme physicality and endurance of the human body, or engage a dialogue with digital technologies and systems.
Read Steph's Synapse creative research journal  HERE
Prof Jonathan Roberts, QUT
Jonathan Roberts is a Professor in Robotics at the Queensland University of Technology (QUT) and is a Chief Investigator at the Australian Centre for Robotic Vision (ACRV). He is part of the School of Electrical Engineer and Robotics. His main research interests are in the areas of Field Robotics, Medical Robotics, Performance Robotics and Design Robotics.
Dr Leah Barclay, guest host and ANAT Alumnus
Dr Leah Barclay is an Australian sound artist, designer and researcher who works at the intersection of art, science and technology. Over the last decade, Leah's research and creative work has investigated innovative approaches to recording and disseminating the soundscapes of terrestrial and aquatic ecosystems to inform conservation, scientific research and public engagement. Her work explores ways we can use creativity, new technologies and emerging science to reconnect communities to the environment and inspire climate action.

Residency Program Overview
ANAT Synapse involves Australian research organisations hosting artists in residence, leading to profound artistic and professional development for the participants, while also building a sustainable support base for interdisciplinary creative collaboration in Australia.
ANAT Synapse brings artists and researchers together in partnerships that generate new knowledge, ideas and processes beneficial beyond both fields. A distinguishing feature of the residencies is their creative research focus, with applicants supported in collaborative experimentation.
ANAT welcomes submissions from artists who work in any genre with conceptual aims that  intersect with science and/or technology. You can review the work of past program recipients, here.
Residencies take place over 16 weeks full-time or the equivalent part-time, with ANAT paying participating artists a fee and contributing towards project material costs, accommodation expenses and return travel to the destination of the residency. The host organisation provides in-kind access to staff expertise, space, equipment and resources, and assists with disseminating outcomes at the conclusion of the residency.
The Call for Applications to the ANAT Synapse 2023 Residency program is now open. For more details and to apply.
ANAT will be closed for the holiday period from 22 December, 2022 to 10 January, 2023.