Residencies
Collaboration between the arts and sciences creates new knowledge, ideas and processes beneficial to both fields. ANAT's art/science residencies support research partnerships between artists and scientists, and provide artists with an unparalleled opportunity to contribute meaningfully to contemporary scientific research. Hosted by Australian research organisations, the residencies lead to profound artistic and professional development outcomes, while contributing to a growing evidence base attesting to the value of interdisciplinary approaches to solving complex research questions.
First delivered in 1999 ANAT's art/science residencies build engagement between artists and scientists. In the time since, ANAT has supported over 100 artists and scientists to participate in interdisciplinary research residencies.
In addition to the prestigious Synapse program, ANAT is increasingly approached by science and research partners to deliver bespoke artist's residencies in their institutions. Please get in touch with us if this is something you are interested in discussing or pursuing (see below for contact details).
2020 ANAT Synapse Residencies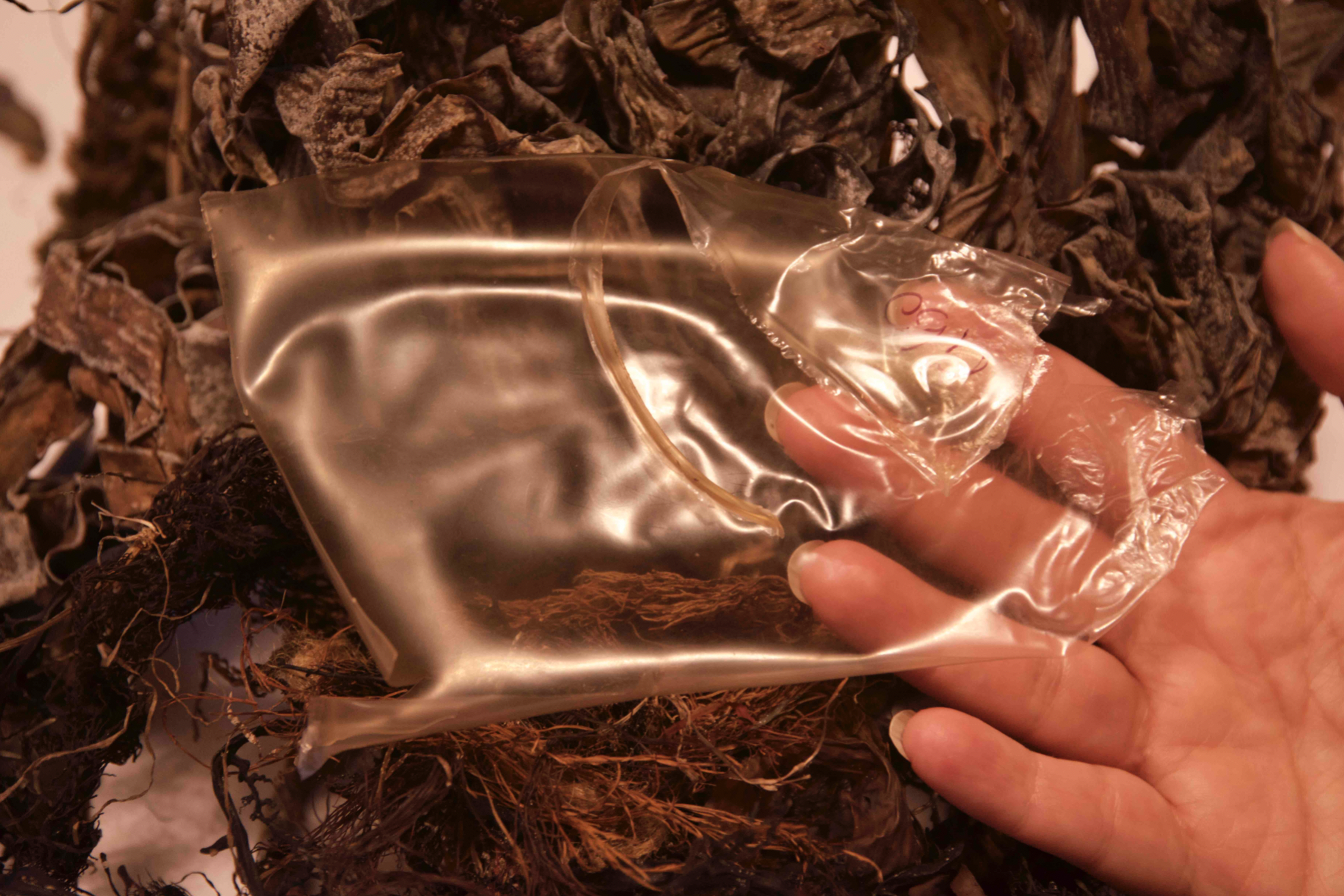 NIKI SPEROU + CENTRE FOR MARINE BIO-PRODUCTS DEVELOPMENT
Artist Niki Sperou and Professor Wei Zhang will work together at Flinders University's Centre for Marine Bio-products Development to research experimental biomaterials and the utilisation of marine seaweed bio-polymers in the development of biodegradable bioplastics.
Read about Niki's residency in this article from The Advertiser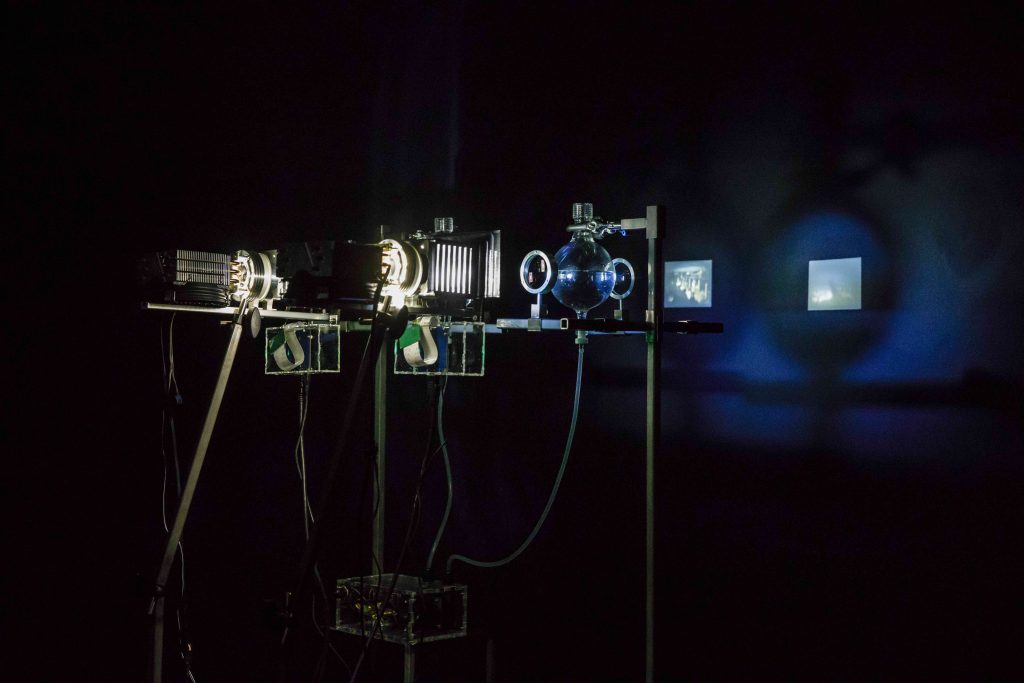 Deirdre Feeney, Hollow Lens (2019), steel, LCD screens, water, glass, aluminium, stepper motor, pump, rasberri pi, arduino, LED. Dimensions variable. © Deirdre Feeney. Photo: Andrew Sikorski
DEIRDRE FEENEY + ANU RESEARCH SCHOOL OF PHYSICS
Artist Deirdre Feeney's enduring fascination with 16th century 'natural magic' and wonder, with making the invisible visible and with exposing the mechanics and materiality involved in image production, has led to her working with Dr Geoff Campbell at the ANU Research School of Physics. Using the School's industry-leading facilities and equipment, Deirdre and Geoff will test the optical limits of mirrors and lenses to create projections capable of invoking a sense of wonder in contemporary viewers.
ANAT Synapse Residencies 2019 | 2018 | 2017 | 2016 | OLDER
The ANAT Synapse program is made possible through the generous support of the Copyright Agency's Cultural Fund.
2020 ANAT SAHMRI Residency

We congratulate Dr Helen Pynor, the successful recipient of the 2020 ANAT SAHMRI residency.
Artist, Dr Helen Pynor, in collaboration with Dr Jimmy Breen, will explore the ontological shifts that take place as donated DNA material moves through increasing levels of abstraction during biomedical research practice. Helen is interested in the ways that DNA material continues a kind of 'life' as it is excised from a patient's body as a wet tissue sample, becomes codified as sequenced genetic code and silicon-based algorithmic code, and later joins large data sets and research data infrastructure. In this sequence of transformative events, at what point do DNA donors lose their relationship with, and investment in, their donated DNA material?  Are there processes by which some of this lost connectivity could be restored? Throughout the residency Helen will contextualise her research by drawing on Dr Carolyn Johnston's expertise in the legal, ethical, governance and ownership status of DNA material.
The 2020 ANAT SAHMRI residency is an opportunity for an artist to engage with issues around the ownership and governance of DNA material. In particular, the residency will facilitate interdisciplinary knowledge generation focused on the myriad ethical, philosophical, legislative and other frameworks that inform the status of DNA material once it leaves its originating body.
Helen will work with Dr Jimmy Breen, leader of the SAHMRI Bioinformatics Platform. Dr Breen's group develops computational tools to enable the analysis of large, complex genomics datasets. Dr Breen's current research interests include developing methods for clinical cancer sequencing (in collaboration with the SAHMRI Leukaemia research group) and investigating epigenomic gene regulation in human reproductive tissues, such as the Placenta.
Dr Carolyn Johnston, Senior Research Fellow in law and biotechnology at Health, Law and Emerging Technologies ([email protected]) at the University of Melbourne, will also contribute to the residency. Dr Johnston's research into the legal issues arising from large-scale infrastructure such as biobanks and data-sharing networks will be of particular relevance and value.
BACKGROUND
Since 1997, ANAT has brought artists and scientists together in research partnerships that have generated new knowledge, ideas and processes.
ANAT's residencies have involved Australian science organisations hosting artists in situ, leading to profound artistic and professional development for the participants, as well as building a sustainable support base for interdisciplinary creative collaboration in Australia.
In 2020, in light of the Covid-19 pandemic, ANAT is offering home/studio/office-based residencies as a way to continue to support artists during this time.
PROJECT PARTNERS
ANAT
ANAT is a global leader in brokering opportunities for artists to work with science and technology partners. We do this because we believe artists are essential to how we imagine and shape our future.
South Australian Health and Medical Research Institute (SAHMRI)
SAHRMI is South Australia's flagship health and medical research institute. SAHMRI's vision is to create and deliver evidence-based, optimised, precision health care solutions for all Australians, across their life course, with a particular focus on greater living.
Health, Law and Emerging Technologies, University of Melbourne ([email protected])
[email protected] was established at the University of Melbourne's Law School in 2017 in order to progress research into the legal and regulatory frameworks for new health technologies, including genomics, stem cell research, gene editing and digital health.
Image: Helen Pynor, The End is a Distant Memory (detail), 2016. Video stills (time-lapse microscopy of chicken fibroblast cells). Installation: 6 single-channel video with sound, various durations; photography; objects. Developed in collaboration with: Dr Jochen Rink, Max Planck Institute of Molecular Cell Biology and Genetics, Dresden; Dr Britta Schroth-Diez and Dr Jan Peychl – Light Microscopy Facility, Max Planck Institute of Molecular Cell Biology and Genetics, Dresden. Sound: James Brown. Image courtesy of the artist.