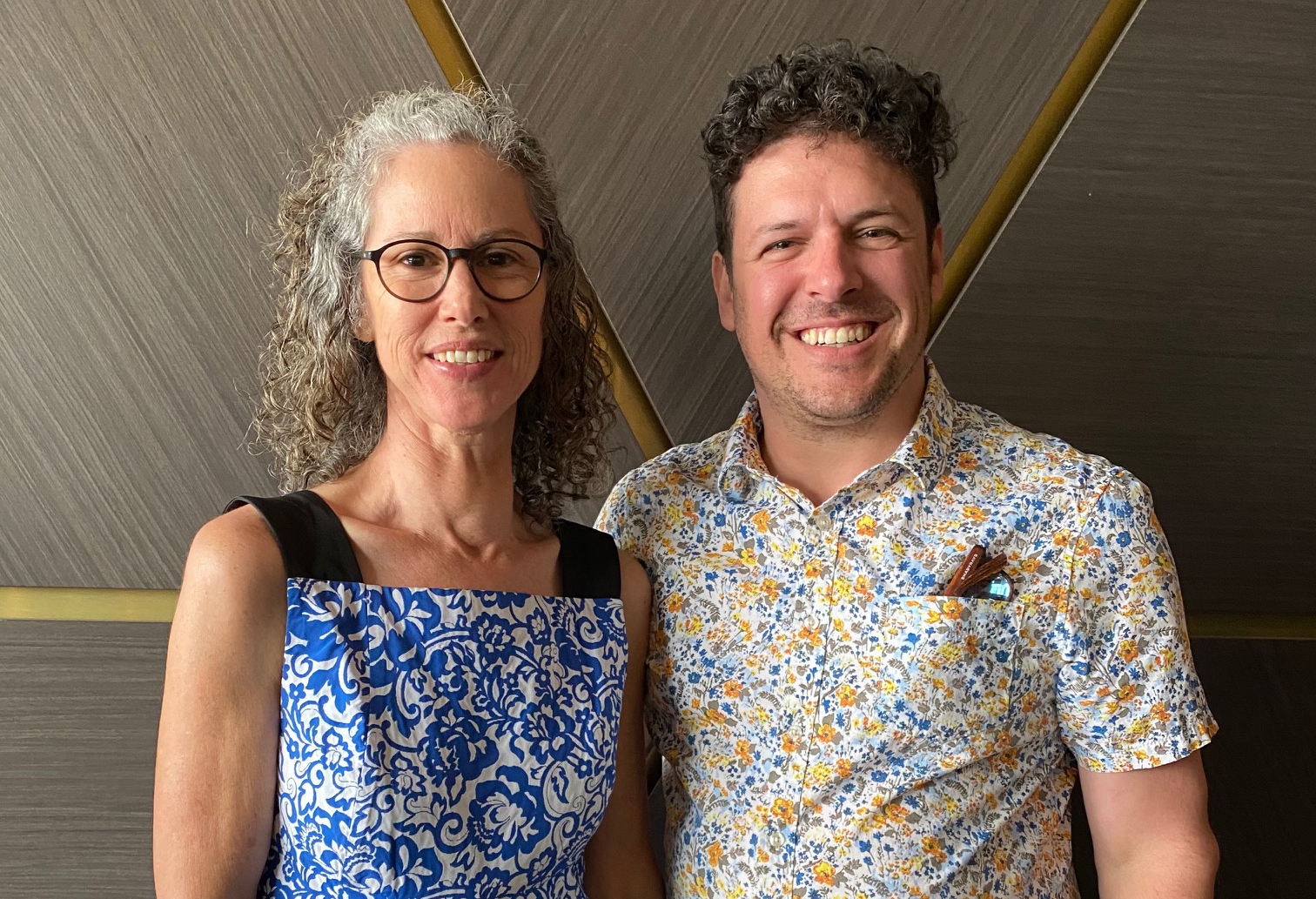 2020-21 ANAT SAHMRI Residency
ANAT SAHMRI resident Dr Helen Pynor has begun her collaborative research with Dr Jimmy Breen, leader of the SAHMRI Bioinformatics Platform. Helen and Jimmy are exploring ideas around the body's porosity, the way the body 'leaks' out into the world in ways we don't necessarily think about, and that DNA is part of that story.
Helen says "I was aware that we shed DNA that's in our skin cells, as we go about our daily lives, but was fascinated to learn from Jimmy that we breathe DNA out in the vapour that comes out of our lungs. It's fascinating to me that this molecule, DNA, that we regard as central to our biological identity and is tucked away securely in cell nuclei, is casually emitted by us each time we exhale, and that we are, of course, also breathing in the DNA of others. There's something humorously promiscuous about this, but also materially and philosophically intriguing. It also has resonances for the Covid world we're living in."
The inaugural 2020 ANAT SAHMRI residency is an opportunity for an artist to engage with issues around the ownership and governance of DNA material. In particular, the residency will facilitate interdisciplinary knowledge generation focused on the myriad ethical, philosophical, legislative and other frameworks that inform the status of DNA material once it leaves its originating body.
Helen will work with Dr Jimmy Breen, leader of the SAHMRI Bioinformatics Platform. Dr Breen's group develops computational tools to enable the analysis of large, complex genomics datasets. Dr Breen's current research interests include developing methods for clinical cancer sequencing (in collaboration with the SAHMRI Leukaemia research group) and investigating epigenomic gene regulation in human reproductive tissues, such as the Placenta.
Dr Helen Pynor is an Artist and Researcher whose practice explores philosophically and experientially ambiguous zones, such as the life-death boundary. Her work is informed by in-depth residencies in scientific and clinical institutions, where she redeploys scientific methodologies and technologies in the service of ontological inquiries.
Her work is informed by in-depth residencies in scientificand clinicalinstitutions, for exampleThe Francis Crick Institute, London; The Max Planck Institute of Molecular Cell Biology and Genetics, Dresden; The Heart and Lung Transplant Unit, St Vincent's Hospital, Sydney; and SymbioticA, The University of Western Australia, Perth; and cultural institutions for example The Australia Council for the Arts London Studio; Performance Space, Sydney; andÉcole Nationale Supérieure des Beaux-Arts, Paris. Pynor also frequently collaborates with members of the broader community whose embodied experiences connect with the themes of her work.
Dr Carolyn Johnston, Senior Research Fellow in law and biotechnology at Health, Law and Emerging Technologies (HeLEX@Melbourne) at the University of Melbourne, will also contribute to the residency. Dr Johnston's research into the legal issues arising from large-scale infrastructure such as biobanks and data-sharing networks will be of particular relevance and value.
BACKGROUND
Since 1997, ANAT has brought artists and scientists together in research partnerships that have generated new knowledge, ideas and processes.
ANAT's residencies have involved Australian science organisations hosting artists in situ, leading to profound artistic and professional development for the participants, as well as building a sustainable support base for interdisciplinary creative collaboration in Australia.
PROJECT PARTNERS
ANAT
ANAT is a global leader in brokering opportunities for artists to work with science and technology partners. We do this because we believe artists are essential to how we imagine and shape our future.
South Australian Health and Medical Research Institute (SAHMRI)
SAHRMI is South Australia's flagship health and medical research institute. SAHMRI's vision is to create and deliver evidence-based, optimised, precision health care solutions for all Australians, across their life course, with a particular focus on greater living.
Health, Law and Emerging Technologies, University of Melbourne (HeLEX@Melbourne)
HeLEX@Melbourne was established at the University of Melbourne's Law School in 2017 in order to progress research into the legal and regulatory frameworks for new health technologies, including genomics, stem cell research, gene editing and digital health.
Image: Helen Pynor, The End is a Distant Memory (detail), 2016. Video stills (time-lapse microscopy of chicken fibroblast cells). Installation: 6 single-channel video with sound, various durations; photography; objects. Developed in collaboration with: Dr Jochen Rink, Max Planck Institute of Molecular Cell Biology and Genetics, Dresden; Dr Britta Schroth-Diez and Dr Jan Peychl – Light Microscopy Facility, Max Planck Institute of Molecular Cell Biology and Genetics, Dresden. Sound: James Brown. Image courtesy of the artist.