NEW LIGHT 2021
Presented by Illuminate Adelaide and ANAT, New Light 2021 showcased experimental and diverse moving image works by contemporary First Nations artists.
Through a national call out, New Light featured commissioned work by Lyndon Davis, Jasmine Miikika Craciun and Ryan Andrew Lee, exploring compelling and complex concepts. The artworks were displayed on the media screens at the entrance to the Adelaide Festival Centre during Illuminate Adelaide.
Lyndon Davis is an internationally acclaimed Aboriginal Artist, educator and Cultural performer. Lyndon was born and raised on the Sunshine Coast, and is a Traditional Custodian and representative of the Local Gubbi Gubbi / Kabi Kabi people. His work is held in national and international collections and has been commissioned by various high-profile organisations, museums and art collectors. His experimental art practice has been commissioned for festivals including Floating Land and Horizon Festival where he has developed immersive installations, interactive experiences and large-scale projection artworks featuring his Kabi Kabi designs.
Beeyali  is a Kabi Kabi word meaning 'to call'. This work visualises the calls of different species on Kabi Kabi Country using cymatics, the science of visualising acoustic energy or sound. Beeyali involves a series of experiments using different environmental materials to reveal cymatics, such as ochre and local flora on the Sunshine Coast.
---
Jasmine Miikika Craciun is a Graphic designer and artist based in Newcastle. Jasmine is a proud Barkindji and Malyangapa woman; 'I was lucky enough to grow up in a family of many diverse backgrounds; growing up alongside my Indigenous family on my mother's side and my immigrant grandparents on my father's side". "I believe having this diverse background has given me the opportunity to see and create from a different perspective. I pride myself on designing for today's diverse audience. Art and design should be used to enact change. My work tells a story and is made for everyone."
The Healing My work is an exploration of my experience in the digital space as an Aboriginal person and represents a visual journey towards personal healing and protection.
---
Ryan Andrew Lee is a conceptual artist whose works explore alternative ontologies and epistemologies which are strongly influenced by First Nations, spiritual and universal philosophies of life and mind. Ryan's strong background in cinematography and experimental documentary film-making shines strongly throughout his works. Most commonly using the mediums of moving image and installation as his favoured tools of choice, Lee proactively strives to create works that resonate on a deeper level of consciousness with the intent to unify all things. Ryan's works are sometimes factually and historically based (whether that be a positive or negative history) and are always created with the intent to educate, raise awareness on and offer up alternate perspectives on cultural, environmental (and sometimes political) issues in hopes to provoke further discussion on such topics; in a sense we must investigate the past to understand the present. Ryan's work is driven by personal experience and experiences shared by family, friends and the wider community.
Buried is the second phase of contemplative moving image works that examine the imposition of destructive Western Industrialist systems on First Nations Peoples and culture on stolen lands. The work brings to light the complex intertwined First Nations and British Settler history of St. Clair valley.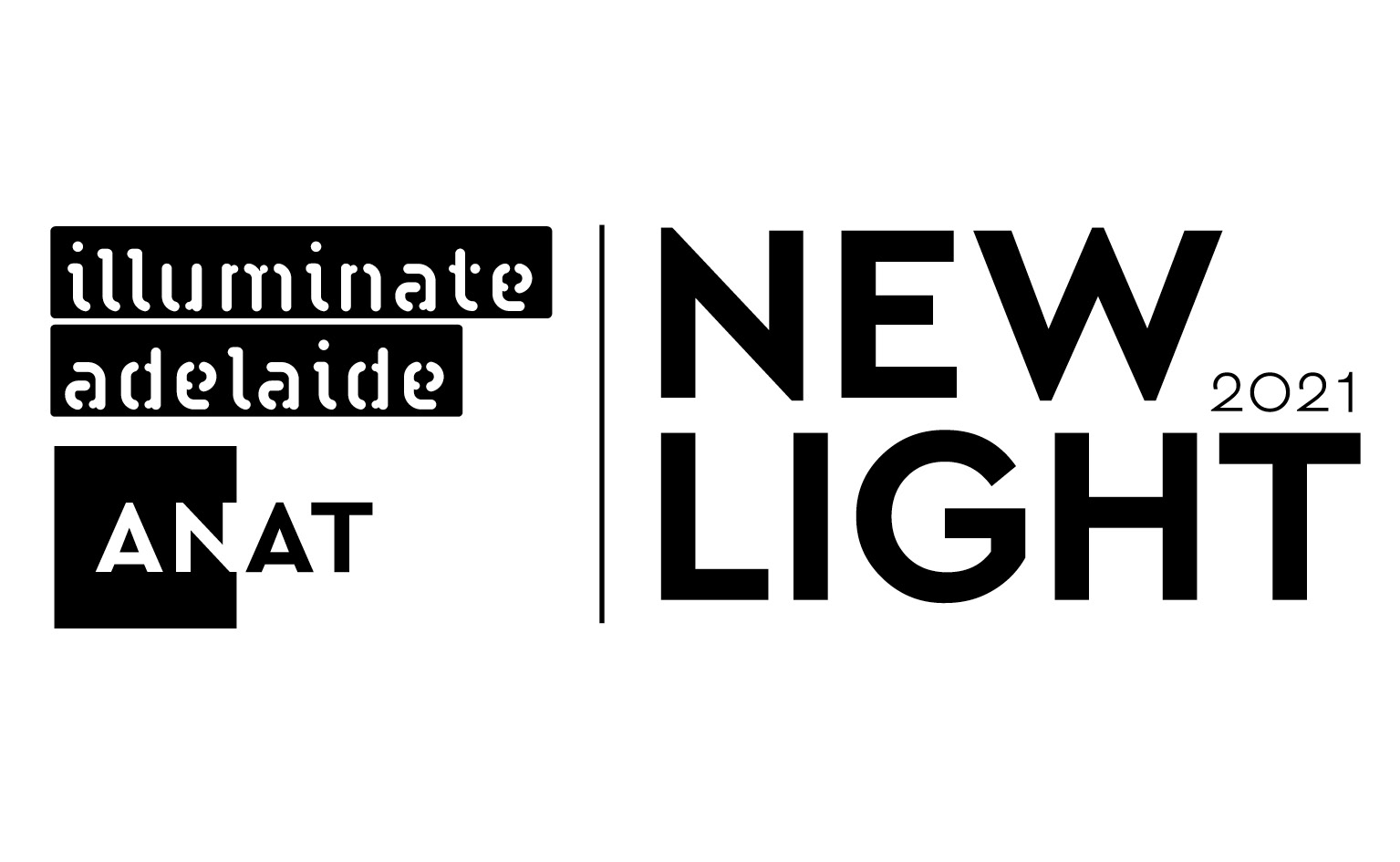 Background
The New Light program has considerable lineage. A series of moving image works were first commissioned by ANAT in association with the City of Adelaide for the 2017 TARNANTHI: Festival of Contemporary Aboriginal & Torres Strait Islander Art. Four contemporary First Nations artists created short experimental projection works, which screened as part of the East End Moving Image program in Adelaide.
The National Film and Sound Archive of Australia went on to support the work to screen at the Enlighten Festival, Canberra in 2018. In 2019, two of the New Light artists were selected to present their work at ISEA2019 in Gwangju, South Korea.
The vision for New Light 2021 is equally ambitious.
Presented by Illuminate Adelaide and ANAT in association with Adelaide Festival Centre's Moving Image program.
PROJECT PARTNERS
Illuminate Adelaide is a celebration of innovation, music, art, light and technology.
Every winter, for two weeks and three weekends, Illuminate Adelaide will light up the city's streets, laneways and architecture with a program of free and ticketed events by local, national and international artists and companies. 
Since 2018 Adelaide Festival Centre has presented the Moving Image Program which offers artists an opportunity to screen their video work on the large-scale outdoor media screens near the entrance to the Festival Theatre. This curated program consists of local, national and international works that run 24 hours a day 7 days a week.