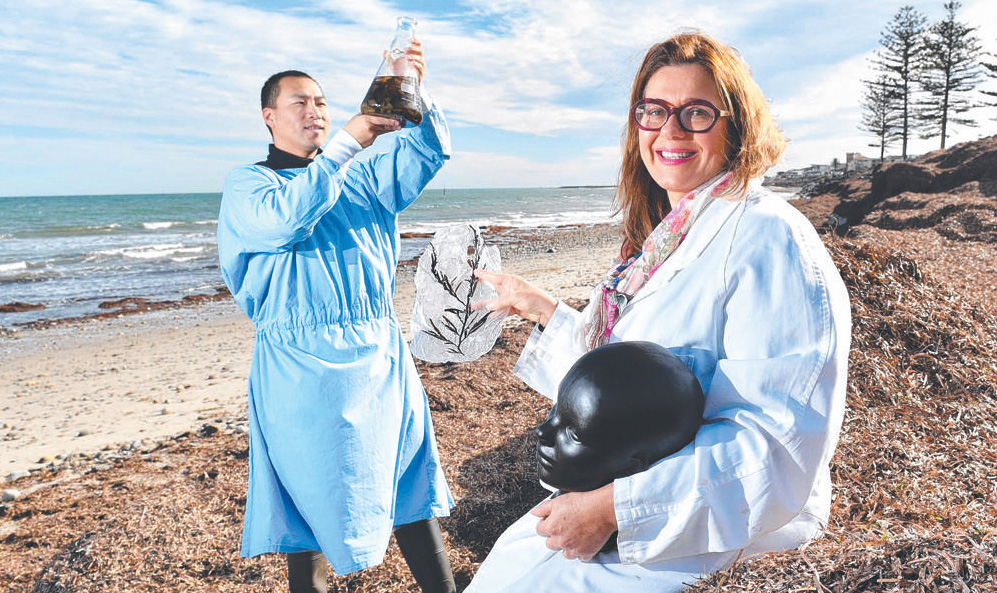 Dr Naomi Hunter in conversation with ANAT Synapse resident Niki Sperou and Flinders University's Peng Su
Radio Adelaide's Festival City Producer, Dr Naomi Hunter talked to ANAT Synapse resident Niki Sperou and research partner Flinders University's Peng Su about the utilisation of marine seaweed bio-polymers in the development of biodegradable bioplastics.
Hear the whole conversation… or read an extract and transcript below.
Naomi: So, tell us a little bit about your ideas, about your proposal, to the Synapse residency in the beginning.
Niki: OK, so art should be about things that influence society today, and one of the big challenges of today is the plastics problem. And you might look around you and you can see that plastic is a ubiquitous and really important resource that we use but it comes at a price. So, this price is, that because it's so well made, it hangs around for a long time, well past it's use-by date, well the use-by date in which it's useful for us. So, what happens with it? And, unfortunately, it's usually an out-of-sight, out-of-mind problem, but it's become such a problem these days, that we can no longer ignore it, and, as it breaks down, we also now have a micro-plastics problem which people weren't aware of before. So, every time you wash your nylon clothing, or you discard the drink bottle, or now with the Covid crisis, you get rid of your mask, or your rubber gloves, they're ending up somewhere. So something that you may have used only for 5 minutes is going to hang around for a long time, and micro-plastics can end up in waterways, in the fish that we eat, and then they can disrupt the way our body works, even though the science on that is out on the moment, we do feel that it is something that will impact our health.
Naomi: How did you even fall into the rabbit hole of looking at plastics?
Niki: OK I was doing some work last (year), and in 2018 with the Centre for Marine Bioproducts Development, and I was working with locally sourced seaweed from Beachport in South Australia, and I was aware that other people in my lab, Peng, who's with us today was working with marine derived, well, marine algae derived ingredients for different applications for science and industry. And one of the interests of Peng was bio-plastics, I think you gave a little talk?
Peng: Yep. Actually, it was a long talk.
All: Laughs
Niki: And I thought to myself, that's something that interests me because I'm interested in ideas of the Anthropocene and I thought we would make a great team. So, I applied to ANAT so that we could work towards this project together in collaboration.
Peng: Yes, definitely. Because actually, the thing is we've been working on seaweed from South Australia for eight years, which is long time already, before it was mainly about food, so supply the food crisis globally, but recently in the last couple of years we realising, I mean the food product's still going, like, see, the micro-plastic that Niki mentioned has really, really become something people should pay more attention on it, because normally science, in science industry or science area, scientists realise things a little bit earlier than…
Naomi: hm-mm
Peng: …the public, and so we see definitely there is a big problem, it will be problem, and as we start utilising the seaweed to make material we can use to replace part of the plastic we're having every day. Simply, we have lots of seaweed in South Australia, the problem is too much. They get rotted, they stink…
Naomi: laughs
Peng: …this a big problem. And now we try to collect them before they get rotted and stink, causing more problem to the environment, we use it. We call it 'user friendly material', that's not limited to human, I think that is very, very critical because before the term of user friendly is all about customer, who pays for that? But we're going to pay for everything, eventually. In the future, we're going to pay for all the damage we did, right? So, the 'user friendly' for us in our area is more actually to everything, to the shark, to turtles, to dolphins, to fish, to the sea…
Naomi: Yeah.
Peng: … to the birds, to everyone. So, that's eventually where we come up, and also, I'm from 100% science background and my job actually is take the science and translate it into engineering, so science is knowledge, engineering's a tool…
Naomi: uh-huh
Peng: …right? And then category is Art which we're having stuff every day, right? And then we're being spurred by Niki so much, she said, she said you can, make that, that, that, that… really? And then we did it! (laughs) That's how we started, yes.
Niki: So, we always say 'two brains are better than one'…
…and we're like our own mini-think tank…
…so we can take our diverse experience and bring it together…
Station: Radio Adelaide 101.5 FM
Program: Festival City 22 June, 2020
Past ANAT Synapse Residencies 2019 | 2018 | 2017 | 2016 | OLDER
The ANAT Synapse program is made possible through the generous support of the Copyright Agency's Cultural Fund.