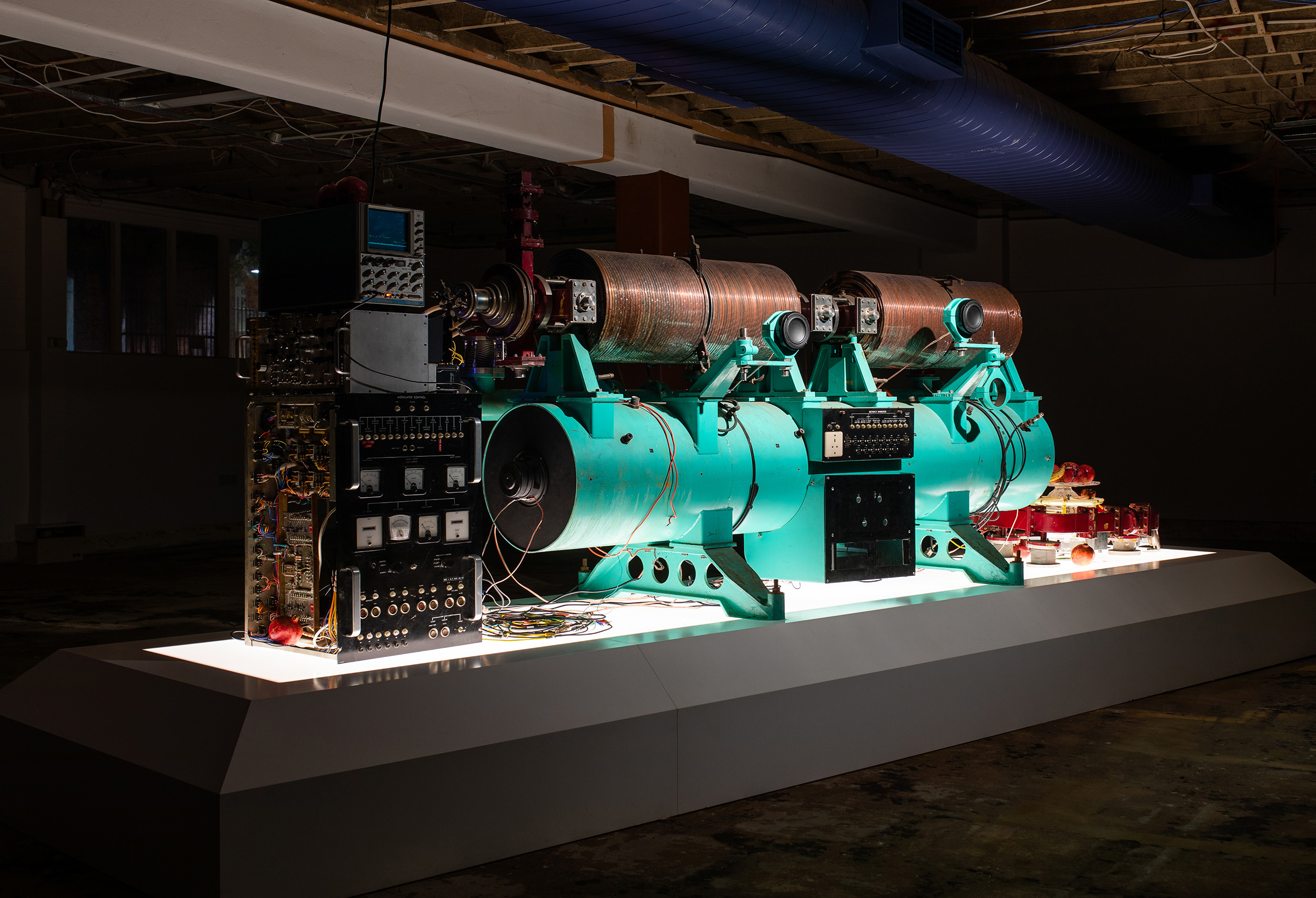 ANAT Alumnus :: Chris Henschke
ANAT ALUMNUS :: DR CHRIS HENSCHKE is an artist who works with digital and analogue media, sound and light, nanochemistry and high-energy physics. Chris' interactions with physicists have resulted in artworks  expressing and questioning the limits of, and relationships between, the subatomic and macroscopic universe, and the tensions and connections between art and science.
During lockdown, Chris has been working in his home-based laundry lab, furthering ideas arising from his,  2018-19 ANAT Synapse CSIRO residency around luminescent phenomena. When he's not busy with his own practice, Chris teaches at RMIT University, working with students in isolation all over the world. At the moment they're focused on the theme of global 'wicked problems'* with featured lectures by CSIRO scientists.
ANAT has supported Chris in several projects over the last 12 years. Firstly, in 2008 we partnered with Arts Victoria's 'Arts Innovation Residency' program to deliver residencies in science and research settings. Chris focused his investigations at host organisation, the Australian Synchrotron, on the incandescent lightbulb, with its symbolic and technological associations with the facility. Using the Synchrotron's beamlines to analyse the lightbulb in various ways, he then combined the data to create a series of images, animations, sounds and sculptural forms.
A decade later Chris undertook a second residency with ANAT…
2018-19 ANAT SYNAPSE CSIRO Residency
CHRIS HENSCHKE + XAVIER MULET at the CSIRO's Advanced Manufacturing hub in Melbourne, and supported by Creative Victoria.
Chris worked with CSIRO scientists to test the potential for programmable Metal Organic Frameworks (MOFs) that produce audiovisual effects. His experiments focused on the nature of chemical synthesis, and how this could manifest through MOF chemicals. His aim was to coax out some unique MOF phenomena. He also wanted to produce 'perceivable signatures' of the unique materials' molecular nature.
Read Chris's ANAT Synapse CSIRO residency blog
This research led to the installation Synthesism in 2019, a series of site-specific experiments  synthesising audio-visual MOF phenomena, which Chris presented at the CSIRO Australian Manufacturing and Materials Precinct in Clayton.
Chris's host at the CSIRO, Dr Xavier Mulet, said Chris "asked questions we haven't asked, for example he made us think about whether nano-structure can be visualised through cymatic patterns (no answers just yet!). I learnt a lot from Chris' fearlessness. He loved being asked questions in an open forum, with no worries about what the returns might be. This is refreshing and highlighted to the team that asking different questions is beneficial to all. For example, for his first experiment, Chris posted it up in the open office and asked for comment and feedback (there wasn't a lot: Chris is orders of magnitude more extroverted than our scientists). It did provide the confidence for a lot of people to talk to Chris and engage with him subsequently!"
In November 2019 Chris presented Synthesism, an in-situ installation at the CSIRO Australian Manufacturing and Materials Precinct in Clayton. Video courtesy Chris Henschke.
Also in 2018, Chris was also one of eleven artists' featured in ANAT SPECTRA 2018's The Art and Consequence of Collaboration. Produced by ANAT and curated by Experimenta, the exhibition illustrated the extraordinary creative potential of art + science research collaborations.
Chris's selected artwork, Resonance, was developed in collaboration with particle physicists at the European Organization for Nuclear Research (CERN) in Switzerland, as part of the art@CMS program. Resonance uses cymatic vibrations in water to audio-visually manifest data from particle colli-sions in the LHC experiment. In collaboration with CERN physicists, Chris turned data from the Compact Muon Solenoid (CMS) detector into audio, in a way that is expressive yet mathematically precise. Through the cymatic manifestations of the energies produced in the LHC, the artwork materially and conceptually expresses the essence of resonance.
Chris's chemical creations came to the attention of Dark Mofo's Creative Director, Leigh Carmichael, who commissioned Demon Core for the 2019 festival. An installation which manifests the energy that lies within the heart of all matter, Chris says the work represents 'the dark & evil side of science', inspired by the disastrous critical mass experiment at a major American nuclear facility in the 1940s. The project brought together conceptual and technical elements from both Chris's 2008 and 2018 ANAT residencies.
A radioactive metal sphere emits flashes of light and sound, causing tanks of luminescent zooplankton, chemicals and a cosmic cloud chamber to glow and fade in the darkness. This completely experimental work took a month to set up, based upon an initial sketch sent to Leigh. Chris says Demon Core "wasn't fully set up and turned on until an hour before launch'. 'I almost cried with relief when it worked…Leigh couldn't believe I'd done it either!"
A second work, Song of the Phenomena (feature image) also featured at Dark MoFo in 2019. Developed from Chris's experimental work with CERN and the Large Hadron Collider, a decommissioned particle accelerator transforms the decomposing atoms in bananas and pomegranates—naturally radioactive due to their high potassium—into sound.
Chris's artworks have been exhibited internationally. He has recently completed a Doctorate of Philosophy at Monash University, which included project work at the European Organisation for Nuclear Research (CERN), Switzerland, as part of the 'art@CMS' collaboration program.
Past ANAT Synapse Residencies 2019 | 2018 | 2017 | 2016 | OLDER
The ANAT Synapse program is made possible through the generous support of the Copyright Agency's Cultural Fund.
*A wicked problem is a social or cultural issue or concern that is difficult to explain and inherently impossible to solve. Examples of wicked problems in today's society include things like education design, financial crises, health care, hunger, income disparity, obesity, poverty, terrorism, and sustainability.