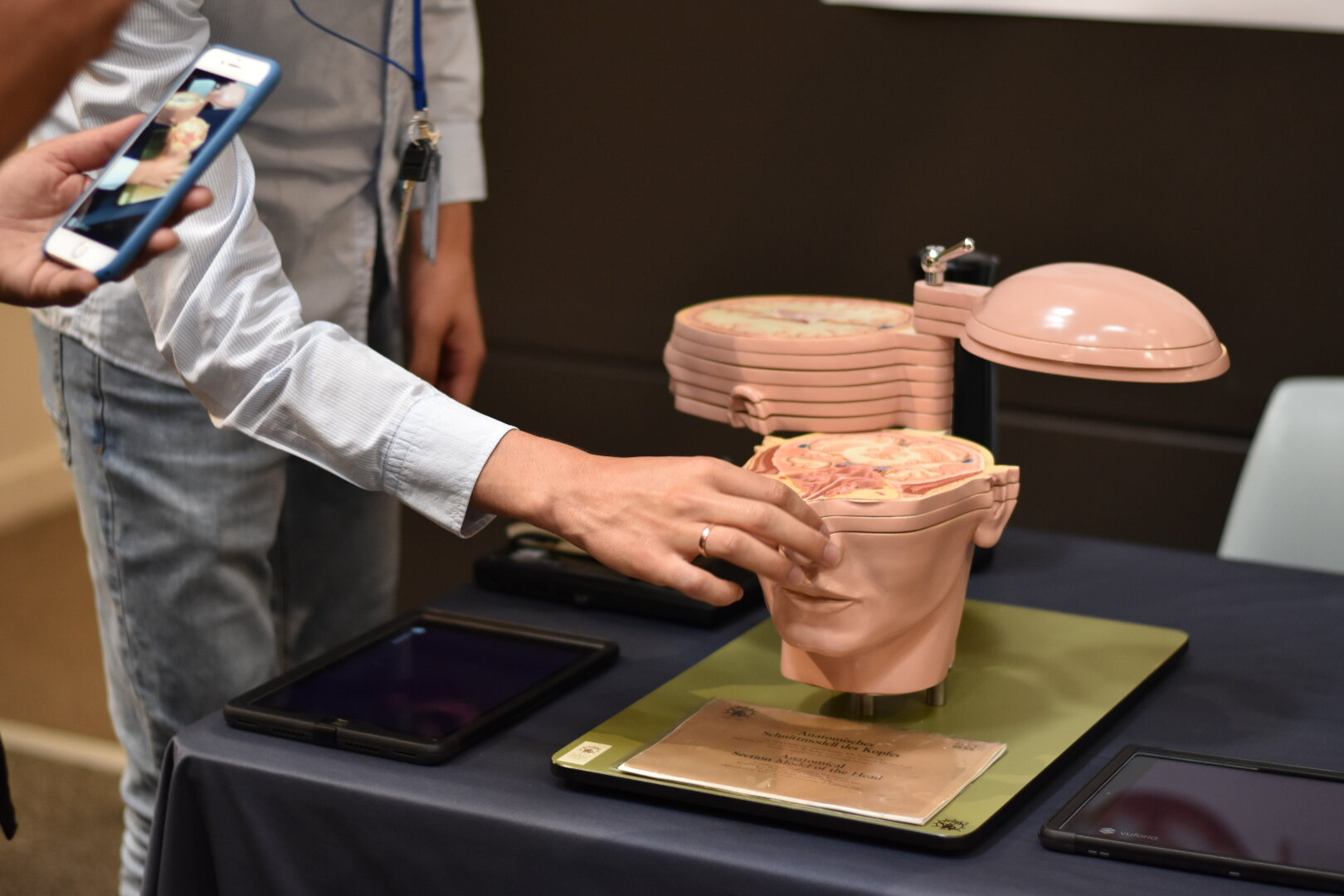 ANAT Alumnus :: Jess Herrington
ANAT ALUMNUS :: JESS HERRINGTON is a digital artist. She is also a PhD neuroscience candidate studying visual perception at the Australian National University (ANU).  Jess is interested in developing new types of sensory experiences in Augmented Reality (AR). Her practice is a perfect example of artists as early adopters of new processes, subverting and co-opting technology for their own use.
2016 ANAT SYNAPSE RESIDENCY
JESS HERRINGTON + PROFESSOR TED MADDESS, JOHN CURTIN SCHOOL OF MEDICAL RESEARCH, ANU
Jess sees her ANAT Synapse residency as the catalyst for her practice and the evolution of a unique skill set. Working digitally and building apps, has reinforced the collaborative nature of her practice. She says Synapse was 'the beginning of a journey where her practice became a unified combination of art and science'. When Prof Ted Maddess (Jess's host at John Curtin School  of Medical Research at ANU) was asked four years ago about his impression of the residency in retrospect and whether the project contributed to a better exchange between art and science, he responded 'absolutely. I think it will continue to do so because I think it will shape Jess's art and she in turn will interact with other artists and scientists'.
Jess is now in the middle of her PhD, living in Canberra with her partner and one-year old son, Theo. In the years since her 2016 ANAT Synapse residency, Jess has produced augmented reality and virtual reality experiences for mobile devices and headsets, with her apps being used for scientific, creative, and educational purposes.
Her impressive list of collaborators includes the National Portrait Gallery (NPG) and software giant Adobe. She has also worked on an AR food project, and been featured by Instagram. Jess recently won a competition to take part in an innovation program at the ANU, with plans to travel once we're on the other side of Covid-19, to iconic institutions in London, Paris, and Cambridge presenting her AR apps.
She is currently working with Dr Corinne Carle on an interactive teaching tool for students at the ANU Medical School. Traditional anatomy resources, such as plastic models and atlases, are limited in their ability to communicate three-dimensional (3D) structures. Rather than memorising brain anatomy, the idea of accessible and uncomplicated learning sprang from Jess's question 'how can I make the learning process easier for other people.' The project uses augmented reality available on mobile phones and ipads to enhance the learning experience in practical lab sessions.
In terms of her creative work, Jess is interested in exploring how we represent ourselves in the age of the internet. Her work draws upon interactions with visual information, such as the perception of human faces. Often surreal in its content, Jess's work experiments with – and alters – our perceptions of ourselves through play and interaction.
Jess's project with the NPG , the audience-centric Eye to Eye, enabled the NPG to engage with a younger demographic, a cohort the gallery was especially keen to connect with. The Augmented Reality experience for the NPG Instagram page allows you to draw with your eyes, with the digitally painted self-portraits speaking to Jess's desire to create tools to promote user experience, rather than passive or prescriptive outcomes.
Jess Herrington, Eye Drawing, 2019
Visit the NPG Instagram profile page and clicking on the smiley-face icon (on a mobile phone) to experience the work.
The recent boom in online food-based media has changed how we look at food online. Jess's Instagram account Fresh, Hot, Delicious, is an augmented reality restaurant, specialising in digital desserts. Each dessert exists as an AR filter on Instagram, which is freely available. As would happen in a real-world restaurant, the desserts 'sell out' when the AR filters reach a specific number of views. Experiencing digital food through AR is an accessible and innovative alternative to engage with an audience.
Visit Fresh, Hot, Delicious
Jess's projects have been presented at international vision science conferences, art galleries, and festivals. As well as publishing in scientific journals, she writes about art, science and technology for mainstream publications such as Sci Art in America, Lateral, Runway Experimental Art, and Medium.
Past ANAT Synapse Residencies 2019 | 2018 | 2017 | 2016 | OLDER
The ANAT Synapse program is made possible through the generous support of the Copyright Agency's Cultural Fund.