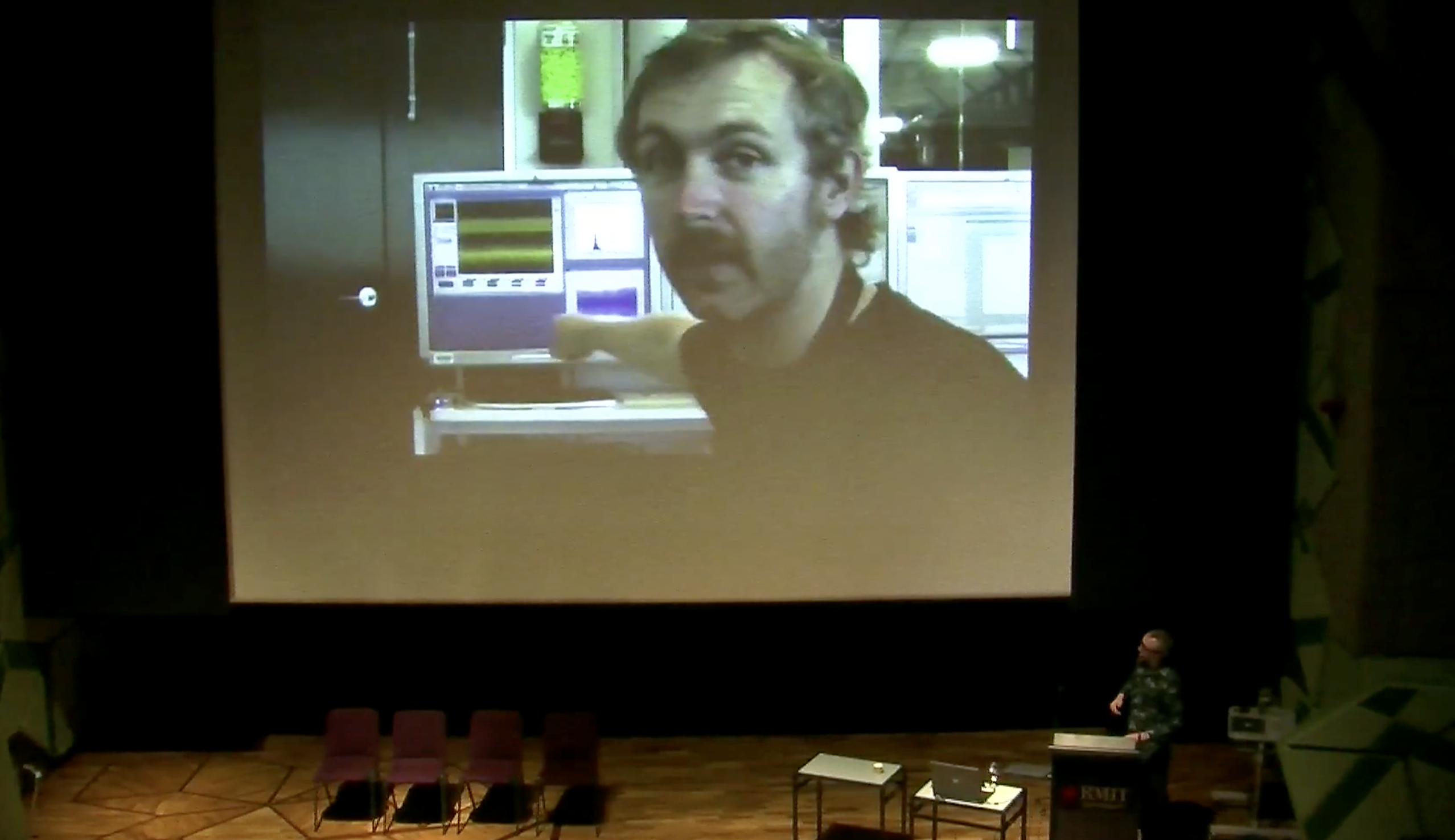 Colliding Ideas 10th Anniversary
Ten years ago this month the Colliding Ideas symposium, created by Dr Chris Henschke was held at RMIT University, Storey Hall in Naarm. Colliding Ideas was the official satellite event of the 36th International Conference on High Energy Physics, where the announcement of the discovery of the Higgs Boson or the 'God Particle' was made.
Both these events are historically unique, the Higgs Boson discovery is perhaps on a par with the discovery of quantum phenomena or the big bang – the Higgs field binds the universe and gives form to all matter (including us). However, unlike such previous fundamental discoveries in physics, this was the first time there has been a direct and recognised response from the artistic community.
Bridging the gap between the two disciplines, Colliding Ideas presented in July 2012 developed significant cross-discipline dialogue and appreciation. Event speakers included Ralph J. Steinhagen, Accelerator Physicist, CERN (European Organization for Nuclear Research), Chris Henschke, Paul Thomas, Mary Rosengren, Jon McCormack, Sam Leach, Antoanetta Ivanova, Malte Wagenfeld and Vicki Sowry. The event was attended by over one hundred people from the contemporary art world, from the ICHEP physics conference, and also importantly, from a wide range of the general public.
Symposium organiser, Chris Henschke, Artist in Residence at the Australian Synchrotron and Lecturer, School of Media and Communication, said Colliding Ideas would 'explore the dimensions of physics and ask what is going on in there, how it relates to our social world, and how it affects us culturally and physically'.
Watch presentations by artist and academic Jon McCormack, electronic artist Paul Thomas and previous ANAT Director, Vicki Sowry.
ANAT alumnus, Dr Chris Henschke is an artist who works with digital and analogue media, sound and light, nanochemistry and high-energy physics.
ANAT has worked with Chris on many projects over the last 12 years. Firstly, in 2008 with the Arts Victoria's Arts Innovation Residency, in the 2010 ANAT Synapse residency at the Australian Synchrotron, which led Chris to CERN and indeed the symposium itself. A decade later, as a featured artist in SPECTRA 2018: The Art and Consequence of Collaboration. In his 2018-19 ANAT SYNAPSE CSIRO residency with collaborator Xavier Mulet at the CSIRO's Advanced Manufacturing hub in Melbourne, Chris tested the potential for programmable metal organic frameworks that produce audiovisual effects. And most recently his presentation Collaborations and Accelerations at ANAT SPECTRA 2022 :: Multiplicity.
Read more about Chris' practice here
The ANAT Alumni is a network of hundreds of artists, scientists and technologists. A lifelong community of remarkable, diverse and engaged professionals.
Read more about the ANAT Alumni here