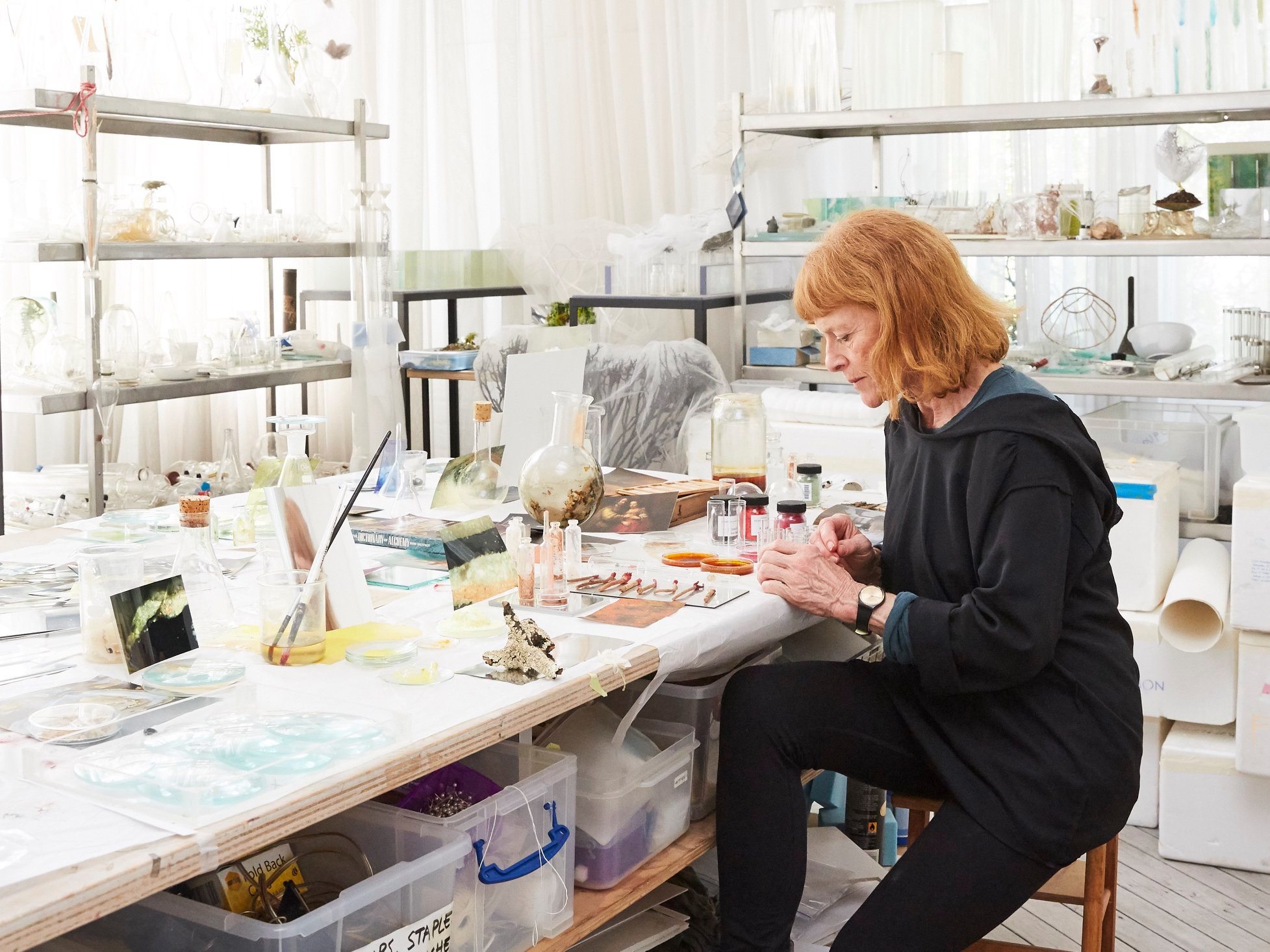 2021 Australian Antarctic Divisions Art Fellowship
The coronavirus pandemic has had significant impact on all aspects of the Australian Antarctic Program. So far, careful management and screening of expeditioners has prevented the spread of COVID-19 to Antarctic stations and on sub-Antarctic Macquarie Island. We look forward to expedition dates being announced for the Australian Antarctic Arts fellows.
2020/21 Australian Antarctic Arts Fellow :: Janet Laurence

Artist Janet Laurence was awarded the 2020/21 Australian Antarctic Arts Fellowship.
Janet will spend time at Australia's Casey research station to develop an immersive installation. The proposed installation will be based on extensive on-site research, including photographs, video works, drawings, watercolours, and collected writings on the Antarctic landscape and Casey station. "My aim for the project is to bring back a captivating experience of Antarctica's preciousness and power to those that have never been," said Ms Laurence. "I have expectations, and yet I know that the actual experience of Antarctica will open up unknown and far-reaching possibilities."
The Antarctic Arts Division and ANAT are also excited to support a second project by sound artist Dr Philip Samartzis to produce a series of high-resolution sound recordings of Mawson station and Australia's new icebreaker RSV Nuyina to complete a sound map of the Australian Antarctic Territory. The map expands on his work produced over two Antarctic Arts Fellowships (2010, 2016) where sound recordings were made of Casey, Davis and Macquarie Island stations, and RSV Aurora Australis. The completed sound map will span 12 years and will demonstrate how the Australian Antarctic Territory has been transformed through the introduction of new technologies, transport and building projects, as well as shifts in climate and weather due to anthropogenic change.
Ms Laurence and Dr Samartzis will travel to the icy continent during the 2021/22 season.
2021/22 Australian Antarctic Arts Fellows :: David Bridie and Keith Deverell

Award winning Australian musician and composer David Bridie, and renowned artist Dr Keith Deverell who works in video, installation, sound and performance, were awarded the 2021/22 Australian Antarctic Arts Fellowship. Together, David and Keith will record and film the continent's natural soundscapes and stories to create an immersive audio-visual art installation and accompanying music album capturing Antarctica.
The installation will involve multi-screen floor and wall projections of abstracted footage and photographs, presented in an enclosed space, approximately ten metres by ten metres, with accompanying surround soundscape. The soundscape will be comprised of recorded natural sounds from Antarctica melded with composed music, spoken word pieces and songs, both new and archival.
The resulting work will be a half hour audio-visual projection presented on loop, and the soundscape will be released as a CD and digital audio download album.
"I regard this as one of the most fabulous artistic opportunities I have been given and look forward to diving right in," said Mr Bridie. "I am honoured to be awarded the Australian Antarctic Arts Fellowship. I look forward to immersing myself in the sounds and stories that resonate from this place and create a piece of work that reflects the history, science, unique beauty and geography of the only continent where people never lived."
The partnership will deliver an interesting and unique immersive experience of Antarctica and is designed to provoke thought and action in new and broad audiences.
"The Antarctic Arts Fellowship means so much to me as an artist because Antarctica is a place you think you will never get to see, just like space," said Dr Deverell.
"Antarctica is so pivotal to the world, it is the source of so many crucial systems, oscillations and reverberations, to stand within them, experience them and interact with them is something very special."
Depending on COVID-19 impacts on the Australian Antarctic Program, it is hoped that David and Keith will travel south in the 2021/22 Antarctic season.
The Australian Antarctic Arts Fellowship has been running since 1984 and is supported by the Australian Antarctic Division with additional support provided by ANAT since 2017.