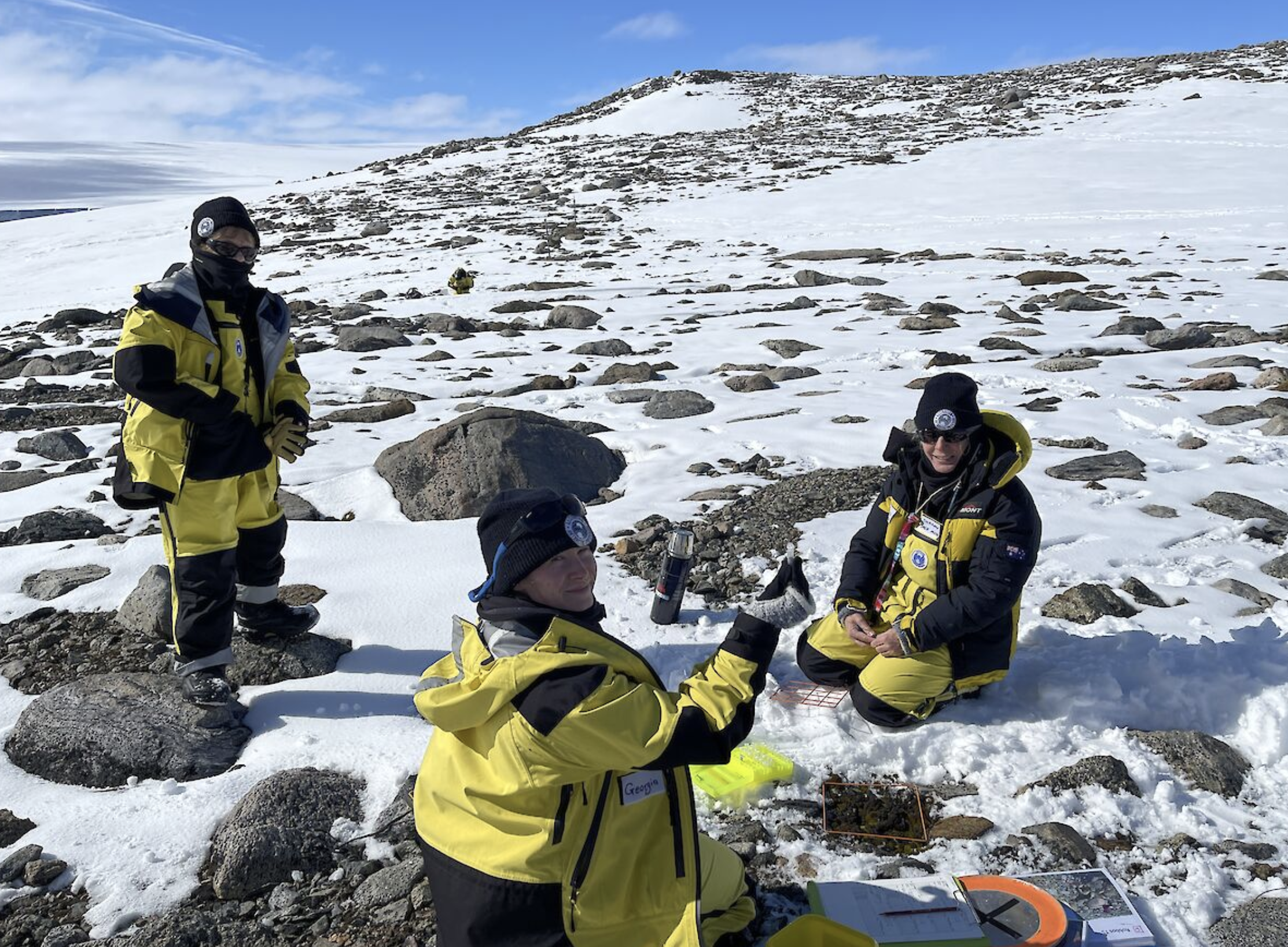 Australian Antarctic Arts fellow Janet Laurence
Janet Laurence was awarded the 2020/21 Australian Antarctic Arts Fellowship. COVID-19 impacts on the Australian Antarctic Program resulted in Janet beginning her residency in February 2022.
During her three week project at Casey research station Janet developed an immersive installation, tapping into the minute details and vast expanse of the extreme environment. Her on-site research includes photography, drawings and watercolours of the Antarctic landscape and Casey station.
In one series, Janet laced blocks of Antarctic ice with blue pigment. As the ice chunks melted, the blue bled into new shapes on the white paper. The resulting evocative series Ice has a memory, and the memory is blue was selected as a finalist in the Bowness Photography Prize.
Janet describes being selected for the Fellowship as the realisation of a long-standing "distant, blue dream." "My practice is well-known for observing the fast-falling avalanche of ecological disasters being actioned upon the planet, which aligns with the work of Casey scientists who are currently studying the influence of climate change and human impacts on moss fields (I am, in fact, a moss gardener myself)."
The Antarctic Arts Division and ANAT are also excited to support a second project by sound artist Dr Philip Samartzis to produce a series of high-resolution sound recordings of Mawson station and Australia's new icebreaker RSV Nuyina to complete a sound map of the Australian Antarctic Territory. The map expands on his work produced over two Antarctic Arts Fellowships (2010, 2016) where sound recordings were made of Casey, Davis and Macquarie Island stations, and RSV Aurora Australis. The completed sound map will span 12 years and will demonstrate how the Australian Antarctic Territory has been transformed through the introduction of new technologies, transport and building projects, as well as shifts in climate and weather due to anthropogenic change. We looking forward to hearing when Philip will depart.
To celebrate the launch of the Griffith Review 77: Real Cool World published in partnership with the Australian Antarctic Division (AAD), in September 2022, ANAT talked to Radio Adelaide's Dr Christina Hagger.
The program featured ANAT's CEO Melissa DeLaney and ANAT alumni, artists Janet Laurence and Dr Philip Samartzis discussing their research and work with the AAD's Arts Fellowship. A selection of evocative recordings from Philip's Antarctic archives were also played.
The Griffith edition is published in partnership with the Australian Antarctic Division (AAD) and focuses on the icy continent, with submissions from artists, researchers, writers and scientists with direct experience working in Antarctica.
HEAR the interview here
Expressions of interest for the 2023 Australian Antarctic Arts Fellowship, for the 2023/24 season, will open March 2022. More details.
The Australian Antarctic Arts Fellowship has been running since 1984 and is supported by the Australian Antarctic Division with additional support provided by ANAT since 2017.