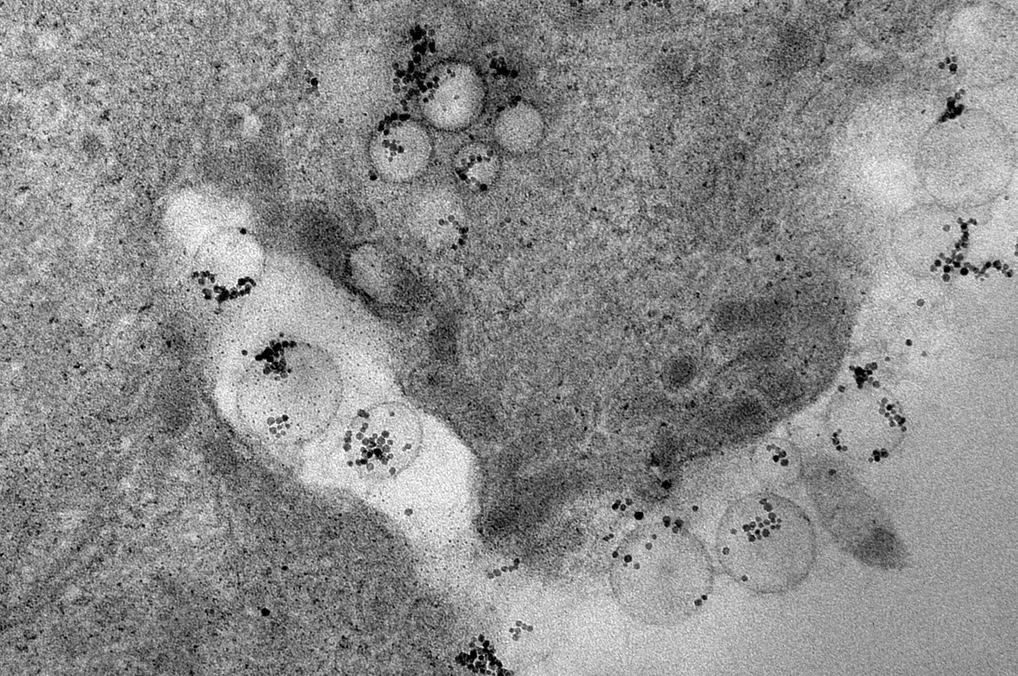 ANAT Alumnus :: Andrea Rassell
Dr Andrea Rassell is a filmmaker, media artist and interdisciplinary researcher in science art. With her scrutiny of nanoart (artforms that engage with nanoscience and nanotechnology), Andrea creates experimental films and moving image installations that explore scale, technological mediation, and the multisensory perception of the sub-molecular realm.
Andrea's path first crossed with ANAT when she presented at ANAT SPECTRA 2018. The following year, during her 2019 ANAT Synapse residency, she worked with scientist Vipul Bansal exploring how art can be used to interrogate the social, cultural and ethical implications of nanoscale biosensing technologies. The works developed included a poetic sound installation, a large-scale interactive microscope and a three-channel video installation based on interviews with female nanoscientists from the Ian Potter NanoBioSensing Facility.
Andrea was part of the 2020 ANAT Ideate program, developing her work Grey Goo: Fear of Entropy which was screened at El Aleph Mexico City in 2022. This project was also the pilot study for Andrea's current Forrest Prospect Fellowship program. It is an experimental documentary/video artwork that addresses nanobiotechnologies and their influence on the human body. Its title refers to the fictional grey goo scenario, a process where out-of-human-control nanobots reduce all material matter to individual atoms effectively dissolving everything on earth. The work, which shows a barely recognisable Prince Charles morphing and shape shifting, has been accepted for TV UNAM, the University's educational television network.
Other notable projects include Wildly Oscillating Molecules, where she transformed nanoscientific instrumentation into cinematographic tools, creating immersive sonic and tactile experiences of the nanoscale environment. The project provides insight into how atomic force microscopy (AFM) influences the human spatial and temporal perception of nanoscale phenomena and provides a new framework to analyse nanoscientific imaging practices.
As part of the 2021 ANAT DNA Lab, Andrea joined a multidisciplinary set of artists, researchers and thinkers from across Australia to engage with issues around the ownership and governance of DNA material. The pilot program provided a laboratory focusing on experimental, artist-led explorations of the ethical, philosophical, legislative and other frameworks surrounding this interdisciplinary field of creative research.
This July, her installation The Society of NanoBioSensing is being exhibited as part of Illuminate Adelaide's City Lights program. The installation was inspired by the philosopher Alfred Nordmann, who suggests that nanotechnologies may be increasingly "unfathomable when we are asked to imagine their unimaginably intricate workings that lie beyond the reach of our senses." Through The Society of NanoBioSensing, Andrea responds to Nordmann's concern by creating a virtual microscope and playful gesture-responsive interface that allows the visitor to have an embodied experience of medical nanotechnology.
Andrea's work has been shown across Australia as well as internationally, including at the New York Imagine Science Festival, the Oaxaca FilmFest in Mexico, New Zealand International Film Festival, White Night in Australia, and Sónar+D in Spain. Other than ANAT, her work has also been recognised by awards and grants from the Australian Government, the Council of the Humanities and Social Sciences (Australia), St Kilda Film Festival, and Oaxaca FilmFest Mexico.
Learn more about Andrea's work on her website.
Visit The Society of NanoBioSensing: Virtual Microscope
Recent publications:
'Wildly Oscillating Molecules: Technological mediation of the atomic force microscope', Technoetic Arts: A Journal of Speculative Research, 17:3; Rassell, Andrea (2019)
'Biomimetically Mineralized Zeolitic Imidazolate Framework-8 (ZIF-8) Polymorphs for Nucleic Acid Delivery and Targeted Knockdown of Gene Expression in Prostate Cancer', Arpita Poddar, Suneela Pyreddy, Andrea Rassell, Matthew R. Field,  Sudip Dhakal,  T. Srinivasa Reddy, Paolo Falcaro, Cara M. Doherty, Ravi Shukla (2020)
The ANAT Alumni is a network of hundreds of artists, scientists and technologists. A lifelong community of remarkable, diverse and engaged professionals.
Read more about the ANAT Alumni here.