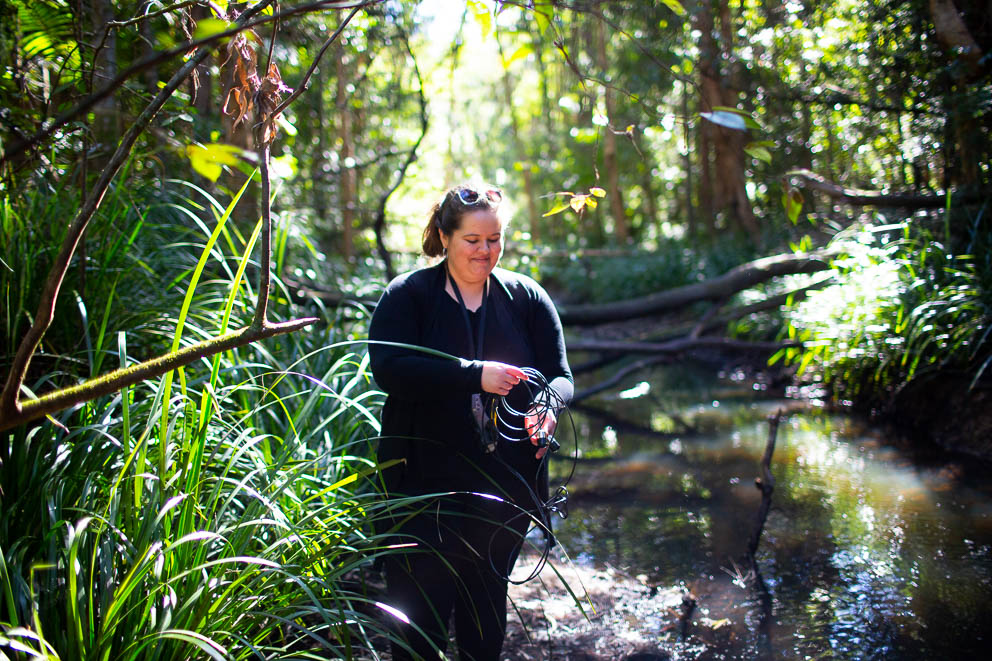 ANAT Alumnus :: Leah Barclay
Leah Barclay is an Australian sound artist, designer and researcher; focusing on sound and the role of interdisciplinary practice in environmental engagement, understanding ecological changes and connection to place. Her work explores the ways that sound can be a measure of ecological health, and how it can provide immersive and embodied connections with changing ecosystems we do not traditionally have access to, such as the canopy of the rainforest or the floor of the ocean. She is also interested in how we can leverage new technologies to ensure this practice is as accessible and inclusive as possible for communities in different parts of the world.
This interest is best represented in two research projects she currently leads: 1) Biosphere Soundscapes, collaborating with UNESCO to map the changing soundscapes of their biosphere reserves; and 2) River Listening, exploring the cultural and biological diversity of river systems through sound. The interdisciplinary research conducted through Biosphere Soundscapes and River Listening is responsive to the needs of collaborating communities and involves the development and design of new technologies. These projects have a particular interest in regenerative design, reciprocity, collaboration, planetary health and community engagement.
River Listening, in particular, was launched through Leah's Synapse Residency with ANAT in 2014, and according to her was, "a pivotal project in my career and really laid the foundation for all the art-science collaborations I have worked on since." In addition to her Synapse Residency, Leah has also crossed paths with ANAT in both ANAT SPECTRA 2018 as well as ANAT SPECTRA: Multiplicity 2022.
Recently, Leah also participated in ANAT's New Light 2021, collaborating with Lyndon Davis and Tricia King on their project Beeyali, named after a Kabi Kabi word meaning "to call" and acts as a call to listen – an alarm for the multitude of vulnerable species on the brink of extinction in Australia. Today, the trio continues working on the project, following new funding from Australia Council.
Beeyali was initially conceived by Lyndon Davis as a way to visualise the calls of wildlife using cymatics – the science of visualising sound or acoustic energy. This collaboration has led Leah, Lyndon and Tricia to find new ways to work together through a meeting of Indigenous knowledge, creative practice and new technology; and has resulted in a large body of creative work that has explored new methods for revealing ecological interconnection in our environment.
Building on the pilot project supported by ANAT in 2021, the Australia Council funding allows the trio to develop new methods to visualise the calls of the White-bellied Sea-Eagle, Black Swan, Queensland Lungfish and Humpback Whale – four culturally significant species in Kabi Kabi Country. The fieldwork and experimental creative development will inform a series of large-scale projections intended to tour internationally to inspire conservation and ecological interconnection.
Leah's work has been commissioned, performed and exhibited to wide international acclaim by organisations such as the Smithsonian Museum, UNESCO, Ear to the Earth, Streaming Museum, Al Gore's Climate Reality, the IUCN and myriad others. Her augmented reality sound installations have been presented across the world from Times Square in New York City to the Eiffel Tower in Paris.
Read more about Leah's work here.
The ANAT Alumni is a network of hundreds of artists, scientists and technologists. A lifelong community of remarkable, diverse and engaged professionals.
Read more about the ANAT Alumni here.