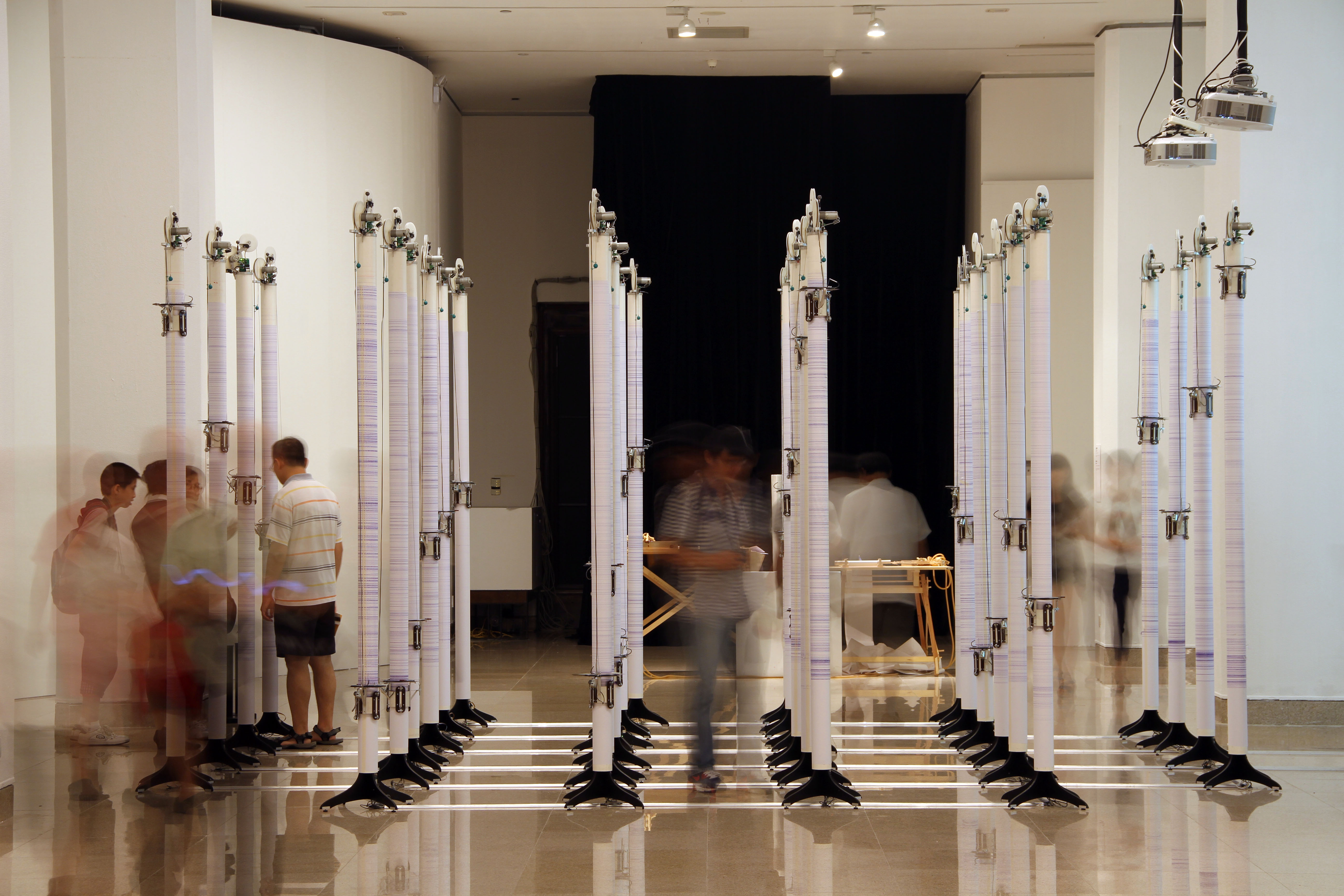 ANAT Alumnus :: Guy Ben-Ary
Guy Ben-Ary is an artist and researcher based in Perth, known for making biotechnological artworks. These works  encourage the critical reflection on a unique cultural moment where we are witnessing the unprecedented evolution of biotechnologies and the creation of various modes of liminal lives that defy our traditional understandings of life.
Guy currently works at SymbioticA, an artistic laboratory within the University of Western Australia, dedicated to research, learning, and hands-on engagement with the life sciences. His main research areas are cybernetics, bio-robotic and "in-vitro" intelligence. Much of his work is inspired by science and nature; and usually utilises motion, growth and data to investigate the technological aspects of today's culture and the re-use of biological materials and technologies.
Guy showed his work across the globe at prestigious venues and festivals: Beijing National Art Museum, San Paulo Biennale, Moscow Biennale, ACMI Melbourne, MONA Hobart, Perth International Arts Festival to name a few, as well as in the permanent collection of the Museum of Modern Art in New York. His works cellF, Silent Barrage and Bricolage were awarded an Honorary Mention in Prix Ars Electronica (2021, 2017, 2009), Bricolage won an Award of Excellence in the Japan Media Art Festival and Silent Barrage also won first prize at VIDA, a significant international competition for Art and Artificial Life. Other notable works include Snowflake, In Potentia, and MEART.
Guy's journey with ANAT started as far back as 2004, when he was invited to present MEART in Ciber@RT Bilbao 2004: International Festival of New Technologies, Art + Communication. Afterward, he joined the ANAT Ideate Residency in 2020 with Nathan Thompson; and also participated in ANAT DNA Lab in 2021. Most recently, Guy and Nathan's work Bricolage was featured in ANAT SPECTRA 2022: Multiplicity, specifically in SPECTRAvision Episode 2: Machines Like Us, Cells Like Them.
In Bricolage, Guy and Nathan created autonomous, animated, living, biological entities that have the ability to self-assemble and are hosted in a suspended vessel (incubator) custom made of clay, metal and glass. These living automatons, or living kinetic sculptures, are derived from three main materials: blood, heart and silk.  Donated blood cells are transformed into human heart muscle cells and grown over bodies made of silk to produce motile structures that move, perform and inhabit the public space where they are installed.
"We are using fragments of life. We're not using whole organisms. We're kind of deconstructing and then reconstructing bodies;" Guy explained in SPECTRAvision, "We're deconstructing ideas related to humans and we're proposing, through those contestable futures, new ways of looking and thinking about what is possible."
Revivification (in development) – is Guy's recent collaboration with Nathan Thompson, Stuart Hodgetts and the legendary composer –Alvin Lucier. Sadly, Lucier passed away during the development of the work in December 2021. In this artwork, they propose to immortalise Alvin Lucier by creating his 'In-vitro intelligence driven surrogate performer', a living entity that would keep on creating art, as an artwork in a museum, long after he is gone.
Visit Guy's website.
ANAT Synapse Residencies 2021 | 2020 | 2019 | 2018 | 2017 | 2016 | OLDER
ANAT's prestigious flagship program has supported creative research collaborations between more than one hundred artists and scientists, since it was established in 2004. The ANAT Synapse program is made possible through the generous support of the Copyright Agency's Cultural Fund.