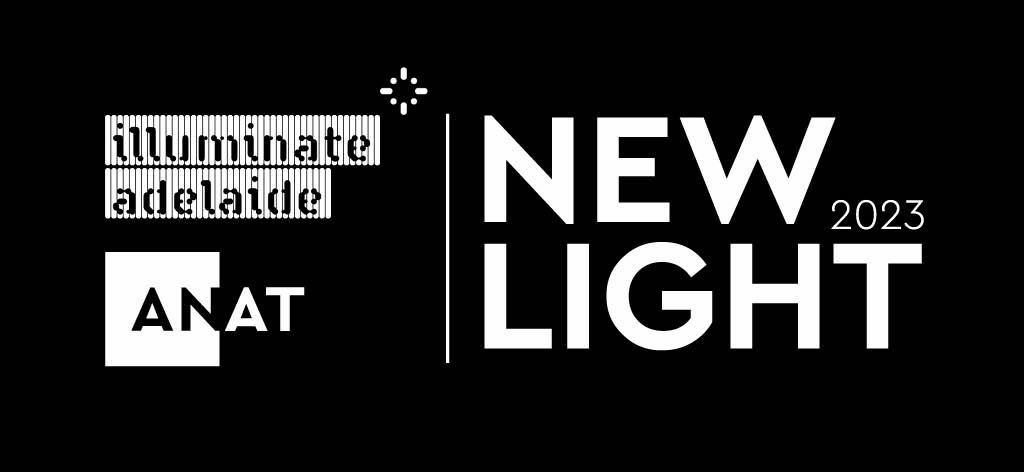 Congratulations to the artists selected for NEW LIGHT 2023:
Chantel Bates and Jonathon Saunders
Presented by Illuminate Adelaide and ANAT, NEW LIGHT 2023 showcased experimental and diverse moving image works by contemporary First Nations artists.
Following a national call out, NEW LIGHT 2023 featured commissioned work exploring compelling and complex concepts, with artworks being exhibited on the media screens at the entrance to Adelaide Festival Centre as part of Illuminate Adelaide's City Lights program.
CHANTEL BATES: ECHOES
Echoes draws on commonly shared experiences of Indigenous people in Australia and focuses on Chantel's intrinsic relationship with land and Country. This knowledge then echoes. Their bloodlines echo. Their teachings echo. But do these echoes stick around? Or merely come and go with their spirits? Chantel's contemporary video art explores these experiences and shares the histories of the landscapes that surround us. To deeply connect with Country as it lives and thrives through yesterday, today, and far into the future.
Chantel (Shonny) Bates is a proud Murri woman with connections to Wakka Wakka Country. She is an emerging mixed media artist, interdisciplinary designer and visual communicator currently located in Meanjin. Her contributions to the Indigenous community are formed organically through connections with mob, she is devoted to strengthening and promoting inclusion of First Nations voices in the development Indigenous art. Heavily inspired by community, she takes pride in using her knowledge to create storylines that hold an impactful voice for herself and those around her. She holds a Bachelor of Design from Queensland University of Technology majoring in Visual communications. Chantel incorporates her ever growing knowledge of Country into teaching and takes pride in reclaiming this rich culture to implement an Indigenous voice into future learners.
---
JONATHON SAUNDERS: ONE MINUTE TO MIDNIGHT
One minute of explosive authentic animated Australian Superhero Action! Indigenous superhero Zero-Point stops a mugging by some post-humans during a midnight patrol. When it comes to diversity in media, Jonathon goes by the philosophy of being the change you want to see. The character Zero-Point is a love letter to everything he enjoyed in comics and animation. Jonathon wanted to create a cool superhero that just happened to be Indigenous, instead trying to make an 'Indigenous Superhero' as there is no one way of being Aboriginal. Jonathon wants One Minute to Midnight to entertain and inspire young artists to create their own stories and start animating.
Jonathon Saunders is a Darwin based Indigenous illustrator and animator. While born and raised in Darwin, Jonathon is a member of the Woppaburra indigenous people, from the Kanomie clan of Keppel Island in Queensland. Jonathon's artwork focuses strongly on comic book and superhero iconography and re-contextualizing those images within an Australian urban setting. Jonathon explores the themes of morality, heroism and identity. Jonathon is the creator of the award winning animated mini series Zero-Point Season Zero. Jonathon is a remote animator and storyboard artist for Studio Gilay, he is also the co-creator of Wild North Comics, an anthology comic that features comics from artists around NT and beyond. Jonathon regularly publishes new Zero-Point stories in Wild North Comics.
---
NEW LIGHT past programs  2022  |  2021  | 2018
PROJECT PARTNERS
ANAT is a national network that creates opportunities for experimental artists to collaborate with science and technology partners. We do this because we believe artists are essential to how we imagine and shape our future.
Illuminate Adelaide is a celebration of innovation, music, art, light and technology. Every winter, Illuminate Adelaide will light up the city's streets, laneways and architecture with a program of free and ticketed events by local, national and international artists and companies.
Since 2018 Adelaide Festival Centre has presented the Moving Image Program which offers artists an opportunity to screen their video work on the large-scale outdoor screens near the entrance to the Festival Theatre. This curated program consists of local, national and international works that run 24 hours a day 7 days a week.
BACKGROUND
The New Light program has considerable lineage. A series of moving image works were first commissioned by ANAT in association with the City of Adelaide for the 2017 TARNANTHI: Festival of Contemporary Aboriginal & Torres Strait Islander Art. A selection of contemporary First Nations artists created short experimental projection works, which screened as part of the East End Moving Image program in Adelaide.
The National Film and Sound Archive of Australia went on to support the work to screen at the Enlighten Festival, Canberra in 2018. In 2019, two of the New Light artists were selected to present their work at ISEA2019 in Gwangju, South Korea.
The vision for New Light 2022 was equally ambitious. Following our inaugural partnership with Illuminate Adelaide in 2021, ANAT and partners were excited to announce an opportunity for First Nations artists in 2022.
NDEW LIGHT is presented by Illuminate Adelaide and ANAT, as part of Adelaide Festival Centre's Moving Image program.
ANAT is supported by the Visual Arts and Craft Strategy of the Australian, State and Territory Governments; the Australian Government through the Australia Council for the Arts and the SA Government through Arts SA.